Health
See more than 1,000 people practice yoga at Gillette
The event, hosted by Yoga Reaches Out, raised $300,000 (and counting) for Boston Children's Hospital this year.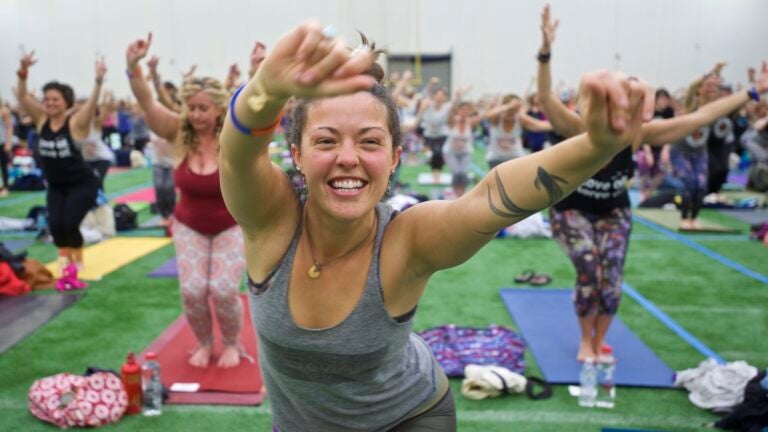 Performing yoga is good for your body and mind, and through Yoga Reaches Out, the practice also benefits the Boston Children's Hospital.
Yoga Reaches Out is a nonprofit that raises money for children's organizations through yoga events, like the 2016 New England Yogathon this past Sunday. More than 1,000 people gathered at Gillette Stadium's Empower Field House at 9 a.m. for the sixth annual full day of yoga and fundraising.
In order to participate, the yoga enthusiasts had to commit to raising at least $250 to support the Yoga Reaches Out Wellness Center at the Children's Hospital Hale Center for Families. The center provides programs like yoga, meditation, and massage to the parents and caregivers of children being treated at the hospital.
"Each year, the Yoga Reaches Out New England Yogathon gets bigger and better," Yoga Reaches Out founder Sarah Gardner said in a statement. "This year's beneficiary was especially meaningful—we've come full circle in a sense, bringing yoga and other supportive services to the families of those being cared for at Boston Children's Hospital. Now, parents and caregivers will have a place to care for themselves as they care for their children."
Sunday's event included more than 1,000 yogis and has raised more than $300,000 so far, and donations can still be made until June 1. Since Gardner started Yoga Reaches Out in 2010, the nonprofit has raised nearly $1 million for Boston Children's Hospital and nearly $2 million for other organizations across the country.
And you thought your gym's classes filled up.