Health
9 Boston cycling studios that are worth the splurge
Bike your butt off this summer.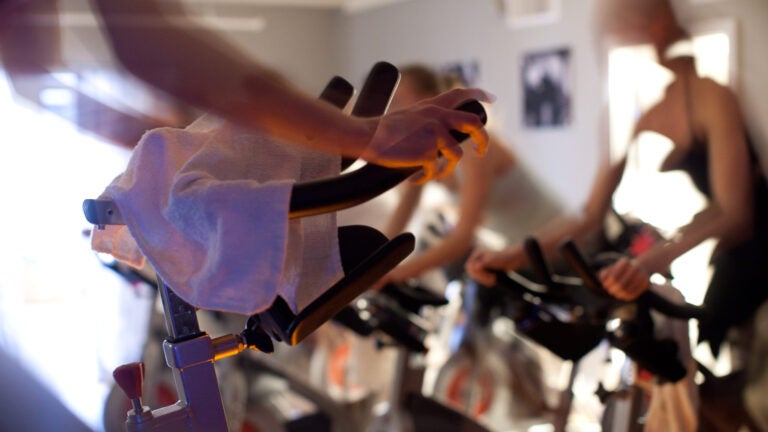 Want fun things to do in Boston, delivered to your inbox every Thursday? Sign up for the BosTen newsletter, our weekly roundup of 10 not-lame events in the city.
The stationary bike has always been a staple in gyms. But even as recently as five years ago, you'd be hard-pressed to find a dedicated indoor cycling studio within city limits. In recent years, though, these boutique studios have been popping up on Boston streets as frequently as you pop up out of your saddle during one of their classes.
So how do you decide where to sweat on two wheels? Allow us to help. Here, a snapshot of nine popular places to ride.
Founded by men, B/SPOKE is a cycling studio with an 'industrial zen' feel and a holistic approach to fitness. Co-founders Mark Partin and Ryan Olsen believe that sweating, eating right, and staying healthy isn't a 45-minute task, but a way of life. The Boston-only shop blends luxury and functionality: intense classes offered all throughout the day that target an ever-busy athlete (think: multiple showers and an app for booking). (101 Federal St., Boston, 617-951-9900, Boston, $27 per class)
Born in college towns, Cyc is oft considered a party on a bike. Their Boston post is located inside the David Barton Gym at the Park Plaza Hotel. (Yes, you can use the gym's locker rooms, too!). But while Cyc may be a good time, there's nothing easy-breezy about the workout, which incorporates sandbag weights and movements from 20 different sports like boxing and volleyball. Consider it your new happy hour: torching calories—not sipping them. (50 Park Plaza Boston, 857-305-5671; $27 per class)
If knowing your stats can help you boost your performance, then Flywheel—which incorporates its own proprietary tech into its bikes, all set up stadium-style—has it right. Rhythm riding goes hand in hand with torque and RPM ranges so that you'll always know where you are in your ride. Add yourself to the TorqBoard, and you can compare your journey to others'. Bonus: Take advantage of a first-class-free policy and fly gratis through a 45-, 60-, or 90-minute ride. (Back Bay, 800 Boylston St., Boston, 617-300-0388; $30 per class)
What started as a sleek Southie cycling boutique mixing up fresh beats, an intense and invigorating environment, and low lighting just outside the Broadway T stop has branched out to both Fenway and Harvard Square. The brainchild of owner Jessica Bashelor, Handlebar serves up sweaty hills and sprints with a side of arms (with a four- or six-pound bar). Free cycling shoes, a friendly environment, and local roots make this studio a must-sweat for any fit Bostonian's bucket list. (South Boston, 141 Dorchester Ave., Boston, 617-451-1270; Fenway, 1336 Boylston St. Boston, 857-239-9789; Harvard Square, 1030 Massachusetts Ave., Cambridge, 617-714-3367; $24 per class)
Competitive spirits are flocking to the Boston Common's chic Equinox. The lure: going head-to-head with other bikes in a first-of-its-kind experience. In a class called "The Pursuit," participants experience HIIT challenges with a basis in teamwork and energy. You, track your own stats or add yourself to the leaderboard, which translates data into on-screen visualizations. You'll hit peak performance and feel the burn with a crew of like-minded gym-goers. (4 Avery St., Boston, 617-375-8200; Open to Equinox members only)
Boston's first indoor cycling studio now has two locations where riders peddle to the beat in clock-less rooms lit by candlelight. Sweat it out in new ways by choosing from classes with names like 'Reascend' (focused on hills) and 'Rebalance' (which puts an emphasis on being out of the saddle). On the way out, check out artwork from an 'artist in residence' and pick up one of the company's very own Refuel Juices. (South End, 18 Union Park St., Boston; Boston Common, 9 Newbury St., Fifth Floor, Boston; 617-366-9670; $26 per class)
Here, speed drills, bodyweight exercises, and kettlebells are all incorporated into a cycling workout. And for those who prefer a little more privacy, the studio also offers private sessions and one-on-two lessons. An added perk: The space splits its location with cold-pressed e.t.c. juices.
(420 Commercial St., Boston; $24 per class)
SoulCycle is in vogue and backed by the fittest celebs for a reason. Inspirational instructors lead high-energy classes that promise the mega payout: the ultimate sweat-infused workout (core and arms, too) that opens your mind and leaves your body a good kind of spent. Posh studios appeal to the luxe gym-goer, but a workout with results attracts athletes looking for an escape. (Back Bay, 500 Boylston St., Boston, 617-336-9999; Beacon Hill, 300 Cambridge St., Boston, 617-336-9998; $30 per class)
Saddle sessions are fun, no-frills, and fierce at Turnstyle, which just merged with local studio Velo-City this spring. This studio has 30 instructors and 130 bikes across three studios, but no matter where you go, expect thumping music, themed rides, and an all-are-welcome vibe. (Back Bay, 43 Fairfield St. Boston, 617-536-0919; Kendall Square. One Kendall Sq., Suite B3002, Cambridge, 857-242-3039; South End, 310 Harrison Ave. Boston, 857-990-3968; $17 per class)