Health
How to find a therapist in Boston
Because in this medical hub, seeking out a mental health professional is surprisingly not simple.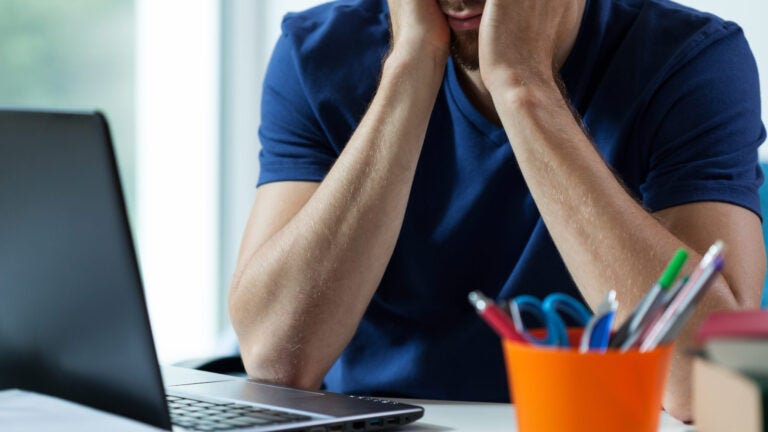 When it comes to medical care, we're lucky here in Boston. The city is home to some of the best hospitals in the country. And yet, sometimes finding the best care can still get tricky—particularly if you're looking for a psychologist: someone in whom you can confide, divulging your deepest insecurities and your darkest fears.
So where do you start? What do you do? To whom should you turn? Here, your guide for IDing the right psychologist for you right here in Boston, according to local mental health experts.
Self-interrogate
The first step in finding someone to talk to involves figuring why you want to talk to someone in the first place.
"If you're entering therapy, you're going to need to look at your own needs," said Ash Nadkarni, M.D., a psychiatrist at Brigham and Women's Hospital who also sees patients as a therapist.
Are you hoping to learn new skills, or do you need someone who is a listener? Do you have a mood disorder or a substance abuse issue? Do you feel comfortable talking to someone who is older or younger? What kind of commitments can you make, both with time and money? Do you want someone in the city or the suburbs?
"Making a list of goals and needs for therapy can help you avoid feeling overwhelmed when you start your search," she said.
Don't get too thrown by training—like whether someone is a Ph.D. (which emphasizes research and practice) or a Psy.D. (more focused on the practice side)—right away, said Elyse Park, Ph.D., a clinical associate in psychology at Massachusetts General Hospital. While degrees and training matter, so does whether or not you gel with a person, she said.
Talk to your squad
"Despite the fact that we live in a world replete with apps, websites, and referrals, the best place to look for a recommendation is among friends, family, and your own physician—people who know you well," Nadkarni said.
After all, online reviews can be useful, but they "may not be accurate or trustworthy," she said. Your best friend, on the other hand, may know a psychologist who can meet your needs well, or your primary care doc may have mental health professionals to whom they generally refer out.
Have a friend who's a doctor or a psychologist? Check in with him or her. He or she may be able to ask around inner circles or shoot off an email on an office list serv, Park said.
Look into academic medical centers
If recommendations are coming up dry, check out the websites of Boston-based academic medical centers, Nadkarni suggested.
"There are so many physicians across Boston, but really, there are few academic medical centers," she said.
Here, doctors and researchers treat patients, train experts, and perform cutting-edge research. Academic medical centers are a good resource, and you can usually find a team who can help connect you to the right person for you, Nadkarni said. Some here in the Boston area: Boston Medical Center, Beth Israel Deaconess Medical Center, Massachusetts General Hospital, Brigham and Women's Hospital, and Tufts Medical Center.
Do your own digging
Sometimes, you'll find someone great right off the bat; other times, you'll have to make a lot of phone calls. Be ready to ask questions.
"Keep in mind that interactions start at the phone screening," Nadkarni said.
Once you get someone on the line, inquire whether or not the psychologist you're calling about sees patients short-term or long-term, and what his or her availability is. If you're striking out, ask if the office has any other recommendations, Nadkarni suggested. And don't give up. As Nadkarni said: "You may need to call 15 people before you find one who works for you."
Psychologists' websites (which can reveal personality and interests) are also a good resource, Park said.
Know your insurance inside and out
It's a bummer, but a 60-minute session on the couch can cost you a lot. That's why it's important to cross check providers with your insurance company.
"Unfortunately, there are still a lot of barriers to finding where you can have your care, but you just have to put some work in and learn to navigate the system," Park said.
Most companies list providers on their sites, but you should also ask right away if a psychologist takes your insurance, she said.
Consider the first appointment an interview
Aspects like rapport, how comfortable you feel, and even how easy your T ride in was can help you determine whether or not a therapist is a fit, Park said. Comfort is important because therapy isn't about parading your successes.
"You're there to share your vulnerabilities," Nadkarni said.
And remember: "Therapy isn't always about being told what you want to hear," she said. "You can have an unpleasant reaction to something you hear, but what's important is that can you trust your therapist and take the treatment path they are suggesting."
You want to make sure your therapist understands you, that you feel as though you can follow his or her suggestions, and that you can be honest.
Speak up if something's off
Feel like something isn't exactly right?
"It's OK to discuss that with your therapist," Nadkarni said. "It could be that they, too, have a sense of what isn't working."
Use this situation as a learning moment to gain new insight about yourself, she suggested. Then think about what kinds of different techniques you could use this time around to find someone who may be a better fit.