Health
This boutique fitness studio opened six locations in six years and isn't slowing down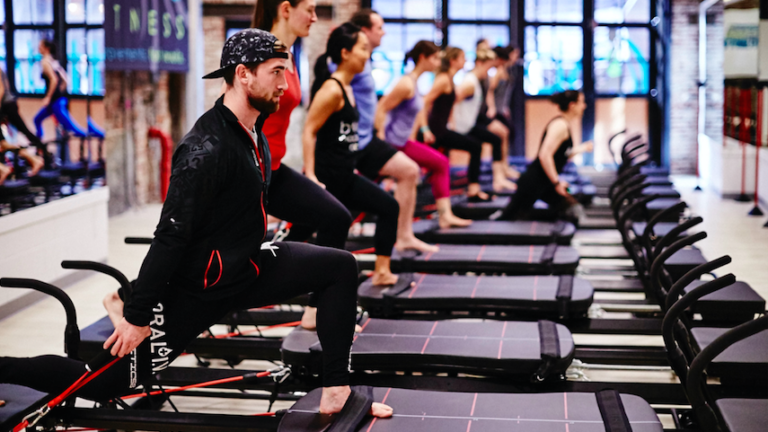 From bare bones CrossFit boxes to luxury boxing gyms, there's no shortage of fitness options in the Boston area. In this series, we'll introduce you to exciting new openings and revisit old favorites to showcase the best of the city's fitness scene. Think your favorite sweat spot deserves the spotlight? Email [email protected] and tell us why.
The Lagree Fitness Method (aka, amped up Pilates done on an amped up piece of equipment called the Megaformer) continues to be a popular workout across the country. Thanks to Btone Fitness owner Jody Merrill, Boston has had this trendy, but oh-so-efficient method since 2010. The workout is intense: The classes—which focus on the legs, core, and arms—are done slowly and intentionally with moves that are layered to maximize flow. "That way you can move quickly from one exercise to another so that you get the most out of your 45-minute class," Merrill said. "We get into the muscles within the trunk of your body, so deeply. This is typically such a tricky area to work, and is even harder to do correctly on your own to get results."

Loyalty to the workout is evident through Btone's rate of growth and expansion over the last six years. Merrill has launched six studios since 2010 and has plans to open even more soon.
"The expansion of Btone was not something I anticipated when I opened my first studio," Merrill said. "I knew I wanted to do a few, but I have really just let it build naturally. It's been one of my favorite parts of this business. It's like an intricate dance that I have learned over the years. It's so rewarding to get the doors open, train even more teachers, and see the business grow location by location."
Opening date: The first Btone opened in December 2010 in Lexington. Now there are six Bay State locations, including Newbury Street, Sudbury, Wellesley, North End, and South Boston (opening this month). A seventh studio at Chestnut Hill's The Street is currently in the works and scheduled to open later this year.
Price: Single class drop-in for $30; 3-for-$30 introductory offer; 5 classes for $125; 10 classes for $250; unlimited monthly for $250; numerous other packages and plans available.
Vibe: Each location is different and offers its own unique layout and vibe, but all of the studios are painted a bright white to open up the spaces and provide an airy feel. The North End location (shown at the top of this article) has exposed brick, while the Wellesley spot (shown directly above) is a skylight-lit open loft. Changing rooms are available, and some locations have showers. All locations require that you bring your own toiletries.
Wow factor: Although Btone's signature Megaformer workout, which the studio calls "Tone," has been given the scary-sounding nickname of "Pilates on steroids," the studio's classes are kept small so that everyone gets personalized attention. In addition to the Megaformer class, three locations (Lexington, Newbury Street, Wellesley) offer low-impact rowing classes on WaterRowers, and the Lexington location has barre classes and combo classes, including a four-week boot camp.
Also cool: If you purchase classes at the Boston locations (Newbury Street, North End, Southie) you can studio hop and use your classes at any of the three.
Know before you go: All classes on the Megaformer are performed barefoot or with grip socks. (You can purchase them at the studios, or at many activewear stores.) Sneakers are required for rowing classes. Water bottles are encouraged. "If you are new, we do ask that you come at least 10 minutes prior to class," Merrill said. "We want you to know where everything is and be ready to hear our five-minute shpeal about how everything works."
Btone Fitness, Back Bay: 30 Newbury St., 4th Floor; Lexington: 30 Waltham St.; North End: 133 Salem St.; South Boston: 416 West Broadway, 2nd Fl.; Sudbury: 365 Boston Post Rd., Building G; Wellesley: 89 Central St.