Health
These are the best indoor cycling studios in Greater Boston, according to Yelp data
Reviewers love three Turnstyle locations.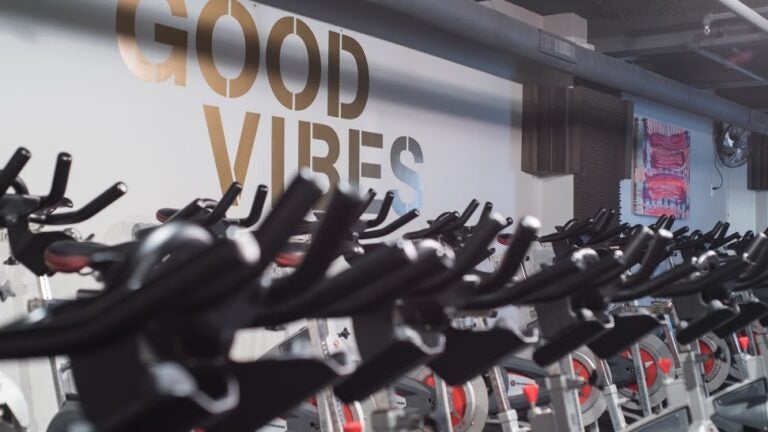 For those who have yet to partake in the indoor cycling trend that took Boston by a storm in 2014, just the thought of giving it a try can be intimidating. But many who have tried it swear by it.
If you're looking to see what all the hype is about, or you're already a well-seasoned rider seeking the best studio for you, we've rounded up the top indoor cycling studios in the Greater Boston area.
The list was compiled using Yelp data in Boston, Brookline, Cambridge and Somerville, since December 2016.
Turnstyle – Kendall Square — 14 Hampshire St., Cambridge
Classes at Turnstyle are three things: An intense, efficient, music-driven workout, an opportunity to let go, and a fun addiction.
Every class at Turnstyle is a themed ride (e.g. 80's vs. 90's hip hop or Justin Bieber vs. Selena Gomez), so riders will always know in advance what music they'll be listening to. According to instructor Deepak Mishra, their goal is to "treat people like people." There are no numbers or metrics in the studios in order to promote a welcoming, approachable environment.
Most Turnstyle instructors are not full-time fitness professionals, but rather individuals who are passionate about indoor cycling. As Mishra likes to put it, the instructors are people who you could see yourself grabbing a beer with after class, and this approachability is at the core of the business.
Additional locations: 43 Fairfield St., Back Bay; 310 Harrison Ave., South End; 6 Cummings Park, Woburn
The Handle Bar — 1330 Boylston St., Fenway
The Handle Bar's vision from the start has been to inspire people to not only push themselves on the bike but also push themselves out in the real world. Founder Jess Fracalossi, a graduate of Northeastern, built the business from the ground up and has worked to take the exclusivity out of indoor cycling and instead replace it with a sense of community and a haven of positivity.
Although the class titles only differ by length of time, 45 and 60 minutes, Fracalossi recommends riders sample a variety of instructors for each one has a distinctive style. The studio hosts regular "bar fights," where two instructors will go head-to-head with contrasting themes (e.g. "Rihanna vs. the Chainsmokers"), and these sessions are sometimes followed by cocktail mixers, playing into the studio's name.
Additional locations: 1030 Massachusetts Ave., Cambridge; 141 Dorchester Ave., South Boston
Ride North End — 420 Commercial St., North End
Built with the intentions of fostering a community that is deplete of corporate influences, Ride North End provides unique hardcore workouts. The studio's classes don't follow a formulaic protocol or script, allowing instructors' individualities to shine through their music selections and choreography choices.
Founder Melina DiPaola, an avid rider and fitness fanatic, prides herself on the personability of Ride North End and strives to make each class a mind-and-body workout for all. The studio even offers one-on-one or one-on-two sessions for those looking to receive customized training.
Flywheel Sports — 800 Boylston St., Back Bay
If competition is what gets your adrenaline pumping, then Flywheel is the studio for you. Their numbers-driven experience features an in-stadium TorqBoard that ranks riders in real-time, based on resistance levels and RPM. These performance metrics are also logged on an individual basis, giving you the opportunity to not only compete against yourself class after class but also monitor your progress.
Located right in the Prudential Center, Flywheel operates under the motto that everyday is an opportunity to become better. And according to instructor Christina Lodde, the studio can transform anyone with the will to be better.
SoulCycle — 300 Cambridge St., Beacon Hill
Described as a "healthy nightclub," SoulCycle's combination of dark room and one-of-a-kind playlists allow riders to truly lose themselves in their workout.  The signature class is 45 minutes long and burns between 500-700 calories, but if you want to kick it up another notch, instructor Sara Silk recommends trying the 60-minute SoulSurvivor or 90-minute SoulChallenge.
Throughout the class, instructors deliver inspirational messages that leave riders feeling stronger and more powerful after every ride, ensuring that the experience is as much of a mental and emotional release as it is a physical workout.
Additional locations: 500 Boylston St., Back Bay; 200-230 Bolyston St., Chestnut Hill; 101 Seaport Blvd., Seaport
Recycle Studio — 18 Union Park St., South End
With "GOOD VIBES" written in large block letters along the studio's back wall, Recycle Studio promises to deliver exactly that. Using a candlelit studio to produce an intimate, inviting environment, owner Cate Brinch's ultimate goal is to have everyone walk out of class feeling their best and infused with positive energy.
For riders who are looking for variety, Recycle has six different class offerings perfect for both beginners and the more experienced. The signature class is the 45-minute "Reboot Ride," but their other options can cater to specific needs. For example, "Reboot Buff Ride" features three arm tracks rather than the usual one, and "Reascend Ride" focuses more on endurance rather than movement and speed.
Additional location: 9 Newbury St., Back Bay