Health
This South End yoga gem got a new life
From the owners of a Brookline studio.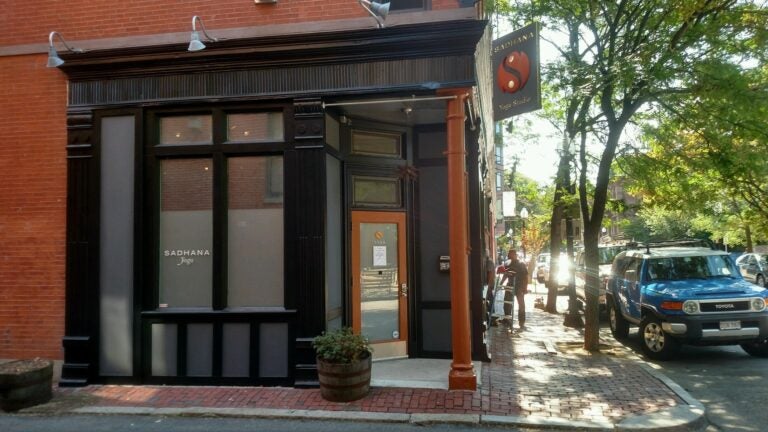 From bare bones CrossFit boxes to luxury boxing gyms, there's no shortage of fitness options in the Boston area. In this series, we'll introduce you to exciting new openings and revisit old favorites to showcase the best of the city's fitness scene. Think your favorite sweat spot deserves the spotlight? Email [email protected] and tell us why. 
Although Sadhana ("practice" in Sanskrit) Yoga is just half a block from busy Washington Street in the South End, it's easy to miss. Tucked on a quiet corner of narrow Worcester Street, the exterior historical charm makes it feel removed from the bustling main drag.
It's this vibe that persuaded owners Tatyana Souza and her husband, David, to purchase the studio from its longtime former owners last summer. After seeing the cozy, 1000-square-foot space in July 2016, they had the keys just two months later.
"When we heard the former owners were looking for buyers, we immediately reached out and went and saw the space," Souza said. "We just fell in love. It had a really good energy, so we decided to go for it."

The husband and wife duo already knew how to run a successful business. They built Coolidge Corner Yoga from the ground up—it was an office space before they turned it into a yoga studio. It's much larger than Sadhana—4,000 square feet—and just steps from Coolidge Corner.
Both Sadhana and Coolidge Corner are about making sure clients feel comfortable, no matter their level of practice. The point, Souza said, is for people to enjoy their time on the mat.
"Our teachers are very welcoming," Souza said. "It's not about competition and who can do the best handstand. We just really want people to love yoga and not to feel intimidated by it."
Opening date: The new iteration of Sadhana Yoga opened in September 2016. Coolidge Corner opened in September 2013.
Price: Both Sadhana and Coolidge Corner keep it simple with the same pricing at both studios. (They also share teachers, but classes are not transferable.) The new client special is $30 for 30 days. A five-class card is $70 (six month expiration); a 10-class card is $130 (one year expiration); monthly membership is $110; yearly membership is $999; and community classes are $5 cash.
Vibe: If you aren't looking for Sadhana, you may never know it's there. The exterior charm is matched inside, with an exposed brick wall and high ceilings.
"The space cultivates a deeper experience with a hand-painted mural…by a local Boston artist and an interactive chalkboard wall full of quotes and inspiration that change on a weekly basis," Souza said.
Coolidge Corner has two rooms separated by a seating area. The space is bright and airy, with windows that overlook Beacon Street.
A connecting theme between the two studios is the decor—both have reclaimed wood furniture from India.
Wow factor: In addition to unique programming like candle-lit yoga and classes for new moms and babies, Coolidge Corner take advantage of its two rooms and offers duo classes where kids can practice in one room while their parent(s) are in the other. Both studios also offer Manduka props to use during your practice.
Know before you go: Both studios heat their rooms to 80-85 degrees depending on the weather outside. This makes it a "warm" yoga or "hot-ish" yoga by some standards.
Coolidge Corner Yoga is easily accessible via the Green Line and offers a shower with EO products, towel service, and a retail area. Sadhana is just off the Silver Line and has cubbies for storing your belongings, but no shower or lockers.
At both locations, mat rentals are $2. Doors close five minutes after class has started—no exceptions.
Sadhana Yoga, 15 Worcester St., Boston; Coolidge Corner Yoga, 1297 Beacon St., Brookline