Health
These yoga instructors want to revolutionize nightlife in Boston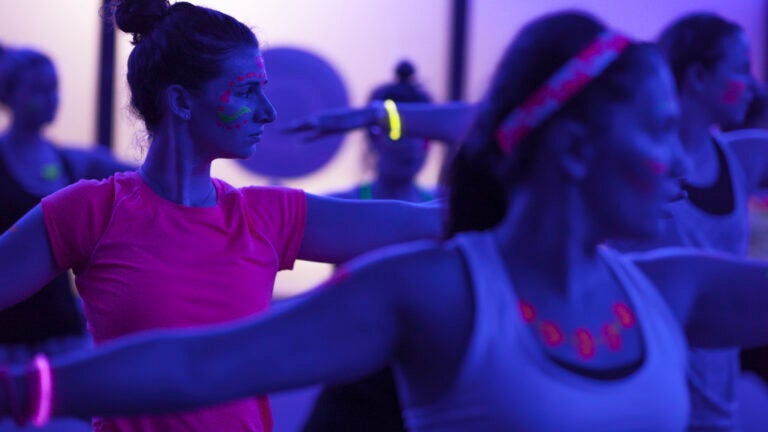 Picture a weekend night out with pump-up music and tons of positive energy. Now, imagine that night without the risk of a hangover. Welcome to GlowYogaFusion.
GlowYogaFusion is a stimulating yoga and dance combination class at Acorn Yoga in Brighton. The class was the brain child of Acorn instructor Kevin Groenjes and the studio's founder, Stefan Kalin, who, two years ago, were looking to give their yogis a healthy alternative to the Boston nightlife scene.
"When you think about nightlife in any city, not just Boston, it's all fun, but it comes with a lot of bad decisions," Groenjes said.
So Groenjes and Kalin fused nourishing, mindful yoga with dance, EDM music, glow sticks, and neon paint.
Groenjes has been teaching yoga for six years and admits that the traditional practice can be daunting for newcomers.
"Yoga can sometimes be viewed through an unaccessible, mystical veil," he said, "but it does not have to be slow and boring."
Groenjes had been to glow-in-the-dark yoga classes before, but he felt that the experience needed something to make it more than "just doing yoga in the dark."
He and Kalin found the missing element in neon body paint, which they give to attendees before the class for painting faces, arms, and fellow yogis. During the class, the studio's black lights make class-goers glow neon while they pose, dance, and sweat.
"Our motto is 'permission to be ridiculous,' which is what this class is all about," Groenjes said.
After two years of the hit class, Groenjes and Kalin are ready to take their healthy nightlife movement to the next level. To meet growing demand, Acorn added a Saturday night GlowYogaFusion class a few weeks ago that's specifically tailored to yoga newcomers. Groenjes, who has taught the Friday night class for the last two years, continues to do so, and Kalin helms the Saturday night class.
In addition to hosting bachelorette and birthday parties, Groenjes said the studio is working on teaming up with bars and clubs for special events.
"We want to bridge the gap between going out and being healthy," he said.
A separate website for GlowYogaFusion is in the works, as well.
Watch the video below to get a feel for the class's vibe:
GlowYogaFusion is held every Friday and Saturday night from 8 to 9 p.m. $22 passes are available for advanced purchase. (The 15-person class usually sells out.) For the same price, yogis can sign up for Acorn's two-week trial and attend unlimited Acorn Yoga classes, including GlowYogaFusion classes, over the course of those two weeks.