Health
This fitness event is unlike any triathlon you've done before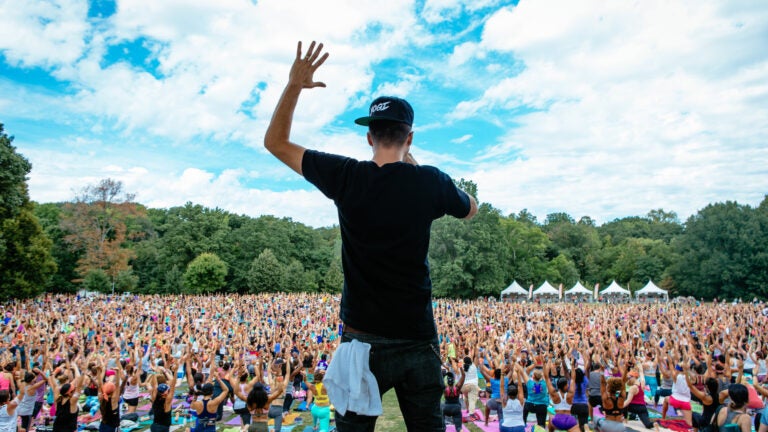 Bostonians hoping to grow (or start) their mindfulness practice this summer will have the chance to do so on Saturday, Aug. 12, when a mindfulness triathlon comes to Boston for the first time.
The newest iteration of the popular Wanderlust Festival, the Wanderlust 108 triathlon is a one-day event founder Sean Hoess describes as a "pop-up festival." Typically, triathlons consist of swimming, biking, and running, but this outdoor triathlon is comprised of a 5K (which participants can choose to walk or run), a 90-minute yoga session, and a 30-minute meditation. All ages and abilities are welcome (children under 10 are admitted for free), and the day includes local food, music, and drop-in participatory events like aerial yoga and photography workshops.
This year, the 108 will visit 31 cities worldwide. Hoess said he and his co-founders created the 108 series to build a more inclusive, affordable alternative to the Wanderlust Festival, the nearest version of which will be held in June at Stratton Mountain in Vermont. The original festival is a four-day event featuring yoga, meditation, cooking classes, hikes, music, and talks on how to live a healthier, more mindful lifestyle.
"We realized it's a big ask to get people to drive to something when they don't know what to expect," he said. "So we created the Wanderlust 108 to bring the values of the festival to a one-day event."
According to Hoess, the Wanderlust mission is to help participants lead healthier and more inspired lives in the modern world. Hoess and his co-founders believe that yoga, meditation, and healthy food are key to promoting their mission.
"We say we're helping people find their true north," he said. "These are fun, community-oriented ways to get people involved in a more balanced lifestyle."
The Boston 108 will be held at the Edward A. Hatch Memorial Shell on the Esplanade, rain or shine. Participants can check in between 7:30 a.m. and 9 a.m., set up their yoga mats in front of the Hatch Shell, and head to the 5K starting line. The 5K route hasn't been released yet, but participants can choose to run or walk until around 10:30 a.m., when the 90-minute yoga session will begin. The all-levels flow will be accompanied by music from a live DJ and led by a local yoga instructor. (The Wanderlust website warns that dance parties may form.) Finally, a 30-minute meditation session led by Buddhist meditation teacher Enrique Collazo will close the triathlon at 1 p.m.
From 1 p.m. to 3:30 p.m., ticket holders can enjoy an organic picnic lunch from the Wanderlust True North Cafe and take part in additional classes offered by local yoga studios and artists.
This year, Wanderlust has partnered with No Kid Hungry, a nonprofit organization working to end child hunger in America. For every ticket sold, Wanderlust will donate $1.08 to the organization. Hoess is hoping to raise approximately $100,000 for No Kid Hungry over the course of 2017. Tickets are $59.08. (You can also register to attend the yoga and meditation sessions only for free.) A picnic lunch provided by Wanderlust True North Cafe is $20 plus tax. If you'll be driving or taking public transportation to the event, there's a suggested donation of $5 for carbon offsetting.
Wanderlust 108 Boston; Saturday, Aug. 12 from 7:30 a.m. to 3:30 p.m.; DCR Hatch Memorial Shell, Boston; wanderlust.com
Update: Wanderlust has told Boston.com that Enrique Collazo will lead the meditation portion of the event, rather than Dharma Punx founder Noah Levine, who was originally announced as the meditation leader. 
Update 8/8/2017: Prices have been updated.