Health
These fitness studios bring Los Angeles-style workouts to the Boston area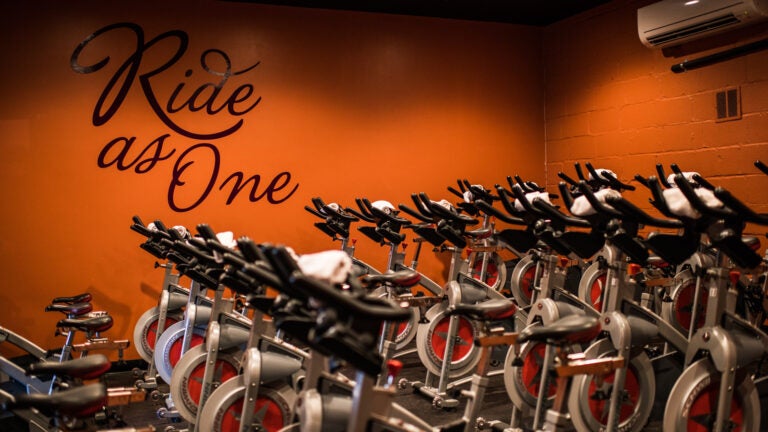 From bare bones CrossFit boxes to luxury boxing gyms, there's no shortage of fitness options in the Boston area. In this series, we'll introduce you to exciting new openings and revisit old favorites to showcase the best of the city's fitness scene. Think your favorite sweet spot deserves the spotlight? Email [email protected] and tell us why.
Lori Haverty and Tiffany Freitas have opened two boutique fitness studios in the last two years in the leafy suburb of Reading, just 14 miles north of Boston.
Tread Cycle & Fitness is an indoor cycling and strength training studio, and Tread on the Mill is a treadmill and strength training studio.
Both Haverty and Freitas grew up in Reading, and their families have known each other for a long time. When Freitas moved back to Reading after working for Disney in California, Haverty began training her at a gym, and the duo became fast friends. Soon after, they became business partners.
"We put our business plan on a napkin one night while having drinks," Haverty said. "Within two months we had the location and were starting our buildout. Before our one-year anniversary, we were already thinking about our next location."

Originally, the women were thinking about opening their second location in another town and keeping the concept the same, but in the end, they knew Reading is where they wanted to stay.
"I'm a single mother of a 12-year-old and wanted to stay close to home," Haverty said. "Why not double-down here in Reading? This is where our family is and our community, too. Our studios are only two streets away from each other."

Freitas has a business degree from Harvard, and Haverty has been in fitness for decades.
"We like to say she's the brains and I'm the talent," Haverty said. "I do all the instructor training and create the classes, and Tiffany handles the business side. At this time, we have two studios, but we are already thinking about what's next."
Opening date: Tread Cycle & Fitness opened in August 2015. Tread on the Mill opened on New Year's Day 2017.  
Price: Class packs are priced from $12-18 per class, and monthly memberships start at $125/month. Class packages don't expire for a full year. Bonus: All classes are completely transferable between the two studios.
"We kept pricing simple so that any class purchase works for any class, any time, either studio," Haverty said.
Vibe: If Joanna Gaines of the popular HGTV show Fixer Upper opened a fitness studio, this might be what it would look like. Haverty said that a lot of the studio's interior design inspiration came from Gaines's show.
"We took two of the oldest, ugliest buildings in Reading and turned them into our fitness studio dreams," Haverty said. "Both were built in the 1890s. All of our furniture is from [Joanna Gaines's] Magnolia line, and we are very much a 'Joanna Gaines style' in our studios. We bought all the wood from an old barn they torn down in Andover. We kept the original architecture and used our passion for design to make significant modifications."
Haverty's father built the Tread sign for Tread Cycle in his woodshop. At Tread on the Mill, there are real airplane wings suspended from the ceiling ("a symbol to reach for new heights," Haverty said), old garage doors, reclaimed wood, polished concrete floors, and large mural at the entrance created by Freitas that uses Haverty's silhouette.
Wow factor: Tread Cycle offers much more than cycling classes.
"The word 'tread' means 'to press or beat with your feet,' and we literally ran with that," Haverty said. "We offer kickboxing, bootcamp, strength, kettlebell, and HIIT classes."
Tread on the Mill is an indoor treadmill fitness concept.
"It's popular in Los Angeles, where Tiffany worked, and so we spent a lot of time researching on the West Coast to bring these fitness elements to the North Shore," Haverty said.
The classes fuse cardio interval training on Woodway treadmills with strength training on the floor.
"We combine this challenging workout with what we learned in the [cycling] room with heart-pounding music and lights to keep the energy high," Haverty said.
Know before you go: Classes at both locations tend to fill up fast, but the waitlists really work.
"Eighty percent of people on the waitlist get into class," Haverty said.
You also choose your spot for the classes way early.
"Our signup system allows you to pick your bike or treadmill six days in advance," Haverty said. "So if you want the front row or the back row, you can reserve it ahead of time online."
Both locations have water bottle filler stations, towels, mats, and weights. There's a two song late-entry limit—no exceptions—for both studios.
At Tread Cycle, cycling shoe rental is free the first time only and $3 thereafter. There are no showers at the cycle studio.
At Tread on the Mill, three brand-new bathrooms feature tin ceilings, outdoor stones, and two large showers with towel service. No outdoor shoes are allowed on the treadmills, so bring a clean pair of sneakers.
Tread Cycle & Fitness, 6 Linden St., Reading; Tread on the Mill, 13 High St., Reading