Health
20 of the best running routes in Boston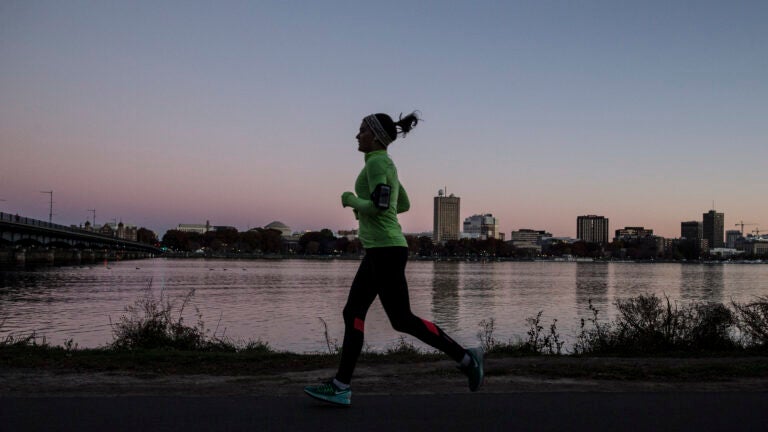 As the weather finally heats up in Boston, it might be time to trade in your treadmill for all the gorgeous running paths the city has to offer. Here are 20 you may want to check out.
1. Alewife Linear Park
Beginning with the Alewife T stop in Cambridge and ending with Cedar Street in Somerville, the MBTA-owned Alewife Linear Park runs directly above the trains traveling on the Red Line. Midway through the trail, you can dip out to the Davis T stop to explore all the shops and restaurants the hip neighborhood has to offer—or, you know, for a breather.
2. Arnold Arboretum
A 2.5-mile path in the 281-acre Arnold Arboretum of Harvard University will take you past 15,000 luscious trees, shrubs, and vines. If you're looking to avoid a crowd, visit during off-peak times or schedule around the arboretum's event calendar.
3. Back Bay Fens
The perimeter of the Fens totals a little over a mile and a half, making this loop an extremely manageable distance for novice runners. Enclosed inside are the Richard D. Parker Memorial Victory Gardens, which were established in World War II as part of President Franklin D. Roosevelt's request that cities grow more vegetables. After your run, be sure to take a stroll through the blooming gardens to see what's growing.
4. Battle Road Trail
Located in Minuteman National Park, the Battle Road Trail is perfect for any history buff, as the 5.5-mile path features part of the route taken by the British on their march from Boston to Concord during the Battles of Lexington and Concord. Along the way, you'll pass historic houses, farmlands, and the spot where Paul Revere was captured on his famous ride.
5. Blue Hills Reservation
For those who prefer trail running to pavement pounding, Blue Hills Reservation in Milton has 125 miles of terrain that ranges from flat to hilly. If you're looking for a challenge, keep an eye out for the red dots or yellow triangles on the state park's trail map, as these paths require more technical footing.
6. Boston Common and Boston Public Garden
The streets outlining the Common and the Public Garden form roughly a 2-mile track, but feel free to venture inside to run along one of the many paved paths.
7. Brookline Reservoir
A great location for those who can't get enough of fall foliage in New England during that time of year, the Brookline Reservoir received National Historic Landmark status in 2015. One lap on the gravel path around the calm waters is just under a mile, so you can easily customize your distance.
8. Carson Beach and Castle Island
Interested in running a longer distance? The waterfront path from Castle Island to Carson Beach spans a little over 10 miles, and it's gorgeous to boot.
9. Chestnut Hill Reservoir
Frequented by Boston College students, the perimeter of the Chestnut Hill reservoir is a manageable 1.5 miles. Time your run to the sunset, which happens right on the water (and makes for a gorgeous post-run Instagram).
10. Commonwealth Avenue Mall
If you love admiring Back Bay brownstones, then the Comm. Ave. Mall is the perfect spot for you to run whilst checking out some of Boston's beautiful real estate. Stretching past grassy areas and park benches, the path is lined with plush trees in the spring and summer that change colors in the fall.
11. The Emerald Necklace
As the name suggests, ample greenery will surround you in the Emerald Necklace. The conservancy covers six parks from Back Bay to Dorchester, but all of the running paths are centrally located enough that you can always hop on the T if you want to cut your jog short.
12. The Esplanade
This quintessential Boston path spans 17 miles from end to end, with plenty of bridges along the Charles River that can help you tailor your route to any number of distances. Thanks to beautiful views of Boston and Cambridge, plus fellow runners and bikers cruising along the path beside you, you'll definitely have an authentic city running experience.
13. Franklin Park
Fittingly named "The Wilderness," this wooded sanctuary offers a great number of off-road trails as well as paved paths for Bostonians to escape the hustle and bustle of the city. Surprise: It's right in Jamaica Plain.
14. Fresh Pond Reservation
The paved 2.5-mile path surrounding this Cambridge reservoir will take you on a scenic journey, passing the greens of Thomas Municipal Golf Course, Butterfly Meadow, and a number of other parks along the way.
15. Jamaica Pond
Calling all early birds! The sun rises on the waters of Jamaica Pond, making it a prime spot for those who like to get their runs in bright and early in the morning. The stunning sight will make the 1.5 miles go by in no time.
16. Newton Hills Carriage Road
If you're not planning to run the Boston Marathon but still want to experience the thrill of accomplishing Heartbreak Hill, head to Newton Hills Carriage Road. You can even replicate the marathon's final 10 miles by starting at the Woodland T stop and making your way down Carriage Road, which runs parallel to Commonwealth Avenue, all the way to Boylston Street.
17. South Boston Boardwalk
This 2-mile run will take you around a popular summer spot in Southie: family-friendly beach Pleasure Bay. While the gusts of wind certainly pick up along the water, the windsurfers in the lagoon make for a delightful view.
18. Walden Pond
If you're in need of some self-reflection, take the roughly 2-mile loop around Concord's Walden Pond, which was home to the famous philosopher Henry David Thoreau. Over the summer, people frequently swim in the water, so feel free to hop into the pond for a cooldown afterward.
19. Ware River Trail
This 12-mile unpaved rail trail is best suited for intermediate to advanced distance runners. Be sure to stay alert—especially if you run with headphones in—as it is also often visited by mountain bikers. 
20. Your neighborhood
The potential hassle of getting to a path shouldn't stop you from going for a run. Many Boston neighborhoods have sidewalks that are runner-friendly, so heading out for a jog can be as easy as stepping out your front door.