Health
How to eat healthy near Fenway Park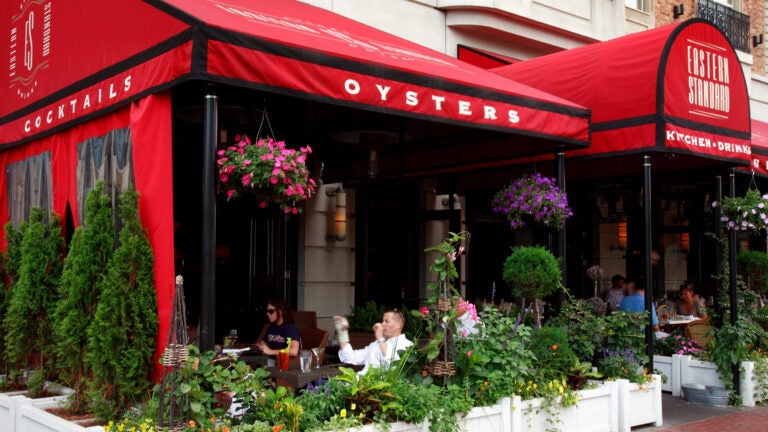 A fatty ballpark sausage and overpriced fries often seem like a better idea before you hit Yawkey Way.
Fortunately, the Fenway area is booming with restaurants beyond the ticket-only area. To eat as healthy as possible pre-game, we asked Joan Salge Blake, R.D.N., a clinical associate professor at Boston University and author of Nutrition & You, for what to order. Stop by one of these eateries right around the corner from the park, and heed Salge Blake's tips.
Sweetgreen
Clearly a winner when it comes to eating healthy, Sweetgreen salads beat out most of the local competition in terms of nutrition. But if you're not careful, even salads can go wrong. Take a menu staple like the Hot Mezze bowl (warm quinoa, hot chickpeas, warm roasted potatoes, spicy broccoli, raisins, roasted chicken, housemade hummus, parsley, mint, and creamy sumac dressing)—it's full of nutritious ingredients, but packs 765 calories. That's why Salge Blake suggested building your own greens and ordering the dressing on the side. Most of the time, dressings and generous portions are to blame for high-calorie salads. Focus on vegetables you like and lean protein choices like chicken. Then, eat slowly. If you're full after only eating half, consider saving half for later, she said.
Sweet Cheeks
This barbecue joint is known for their trays: a hot scoop, a cold scoop, and a hefty serving of meat. The problem? "If you give more real estate on your tray to fatty sources of meat, you're going to crowd out the space for vegetables," Salge Blake said. Instead, set your sight on the restaurant's "onesies" — one rib or a pork sausage link — and order the farm salad, a combo of veggies and fruits like Brussels sprouts, baby arugula, and grapes. This order allows you a taste of meat and fills you up on veggies, she said. It'll be more satisfying than you think, too. "Nothing is going to be as good as the first bite," Salge Blake said, "so you don't need to eat a whole chicken or half a cow. You can have a taste and enjoy it just as much."
Saloniki Greek
This Fenway newcomer puts a focus on local produce, so veggies are always a good bet. Salge Blake also recommended sneaking in some beans by ordering Yiayia's Soup (white beans, local tomato, preserved lemon, and herb salad). You'll fill up on protein, fiber, and complex carbs to stay fuller longer, she said. In a rush? Try the Niko (lemon-oregano grilled chicken, tzatziki, secret sauce, greens, local tomato, onion, Greek fries, spicy slaw, fresh herbs, and a pita), which packs veggies, proteins, and flavor — and only eat half the wrap to save yourself from overdoing it on carbs, Salge Blake suggested.
Yard House
You'll find more than beer glasses the height of a yardstick at this Brookline Avenue eatery with a monstrous menu. "What I love about Yard House is that there are so many options,"Salge Blake said. Instead of giving into high-calorie temptations, she suggested ordering appetizers like edamame or hummus, then ordering fish. "They have a Mediterranean salmon that is superb," she said. "And that's great because Americans are not getting the two servings of fatty fish a week that they are supposed to, so often I suggest people get fish when they eat out." Not a salmon fan? The menu's also got shrimp, seafood, and sushi.
Eastern Standard
Luckily for baseball fans, one of the city's most beloved restaurants is right around the corner from one of the country's most beloved parks. Undecided on what to order? Start with the roasted asparagus salad, Salge Blake recommended. Asparagus is high in potassium, a mineral that the average American diet lacks and one that can help lower blood pressure. Eastern Standard's menu also changes seasonally, so ask what's in-season, she said. "The biggest motivator for Americans to eat is taste," she said, "and if you have vegetables that are in season, they are going to be more flavorful."