Health
9 fresh-air fitness classes to try this summer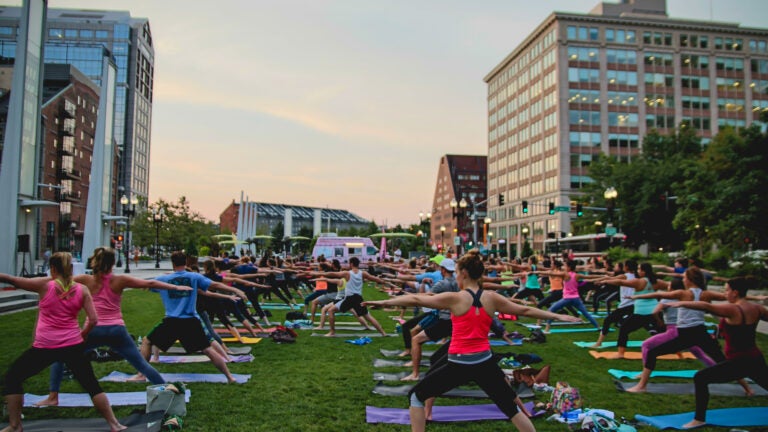 ---
 Are you looking for tours and activities in Boston for this weekend? Click below for fun ways to explore the city.
[fh_link href="/activities/walking-tours"]Book Walking Tours[/fh_link]
---
You have all year to work out indoors—this summer, make the most of the sunshine and take your fitness routine outside. Boston's beaches, parks, and ponds create the perfect open-air gyms, and we've put together a list of outdoor group fitness classes to get you moving in the fresh air.
Seaport Sweat
Seaport Sweat's outdoor fitness series is back for its second season this summer at Seaport Common (85 Northern Ave., Boston). All levels are welcome to attend these outdoor classes taught by local fitness celebs like Jenna Hill of Jenna Hill Yoga and Eliza Shirazi of Kick It by Eliza. Do yoga, kickboxing, boxing conditioning, and high-intensity interval training, all free.
Yoga Around Town
Hone your yoga practice on the Harbor Islands, Tudor Wharf, and the Greenway this summer with Yoga Around Town. All-level flows are taught once a week and feature music from live DJs, plus refreshments. Tickets range in price, and attendees can choose to rent a mat with their ticket purchase. Yoga Around Town also offers stand-up paddle board yoga classes in Boston Harbor in collaboration with Jana Olenio of SUP YO. Those yoga classes are $40.
Boston Parks Summer Fitness Series
The Boston Public Health Commission has teamed up with Blue Cross Blue Shield again this year to offer dozens of free outdoor fitness classes at various locations around the city. You can Zumba at Christopher Columbus Park, sweat it out with high-intensity interval training in Brighton Square, and practice your down dog at yoga on Jamaica Pond. Classes are offered seven days a week and run from June 3 until Aug. 31. A full schedule is available on the Boston Public Health Commission website.
Evolve Bootcamp
This outdoor bootcamp with instructor Shelley Devine runs year-round, but why freeze while you do burpees? According to the Evolve website, participants should expect to "leap over puddles, lift your own body weight, [and] get dirty." The first session is free for beginners, and participants can choose between Assembly Row, Jamaica Pond, and Boston Common locations. Devine also offers a 20-day wedding bootcamp to help summer brides and grooms get ceremony-ready. Monthly passes range from $155 to $204.
November Project
This global fitness sensation began right here in Boston, and it's still a favorite among local fitness fanatics. The free, pop-up style workouts are held every Monday, Wednesday, and Friday morning, and the programs include strength, cardio, and endurance training. The location changes weekly (every Friday, participants are told where to meet the following week), so sign up on the November Project website to stay in the loop.
Beantown Bootcamp
Beantown Bootcamp is "an old-school approach to fitness in a world of 'fluff-letics," according to their website. The gym focuses on pushing its members' boundaries using military-style drills to build strength and cardio endurance. Beantown Bootcamp does have an indoor facility (90 Canal St., Boston), but the instructors push participants outside in the summer, so expect plenty of stair climbs if you decide to join up. Monthly memberships range from $154 to $165 per month, and new members can purchase a one-week trial package for $30.
Beach Yoga at Castle Island with Radiant Yoga
Take your mat to Pleasure Bay in South Boston every Sunday morning at 9 a.m. this summer for a vinyasa flow with instructor Billy Gamble. Classes are an hour and 15 minutes long, and Radiant Yoga suggests bringing a beach towel to place under your mat (and/or for a post-flow dip). Beach yoga is held until Labor Day weekend, so you have all summer to do your sun salutations under the sun.
Outdoor Track with MyStryde
You don't have to be marathon-obsessed to participate in this outdoor track workout from running studio MyStryde – all-level runners are welcome, from walkers to endurance elites. Classes are held in Charlestown, the North End, and South Boston every Tuesday, Wednesday, and Thursday morning, and participants can expect training in everything from sprints to stair climbs, high-intensity interval training to barre. Drop-in classes are $13, or you can purchase a training plan designed to get you marathon- or half-marathon-ready.
MSL Pilates Fusion Bootcamp
Get strong on the Greenway (Salem St. & Cross St.) this summer when you join instructor Ali Baldassare, dozens of other participants, and a live DJ on select Mondays at 6:30 p.m. During this strength and flexibility training, classical Pilates sequences are combined with core exercises and cardio drills for a high-intensity workout. Tickets are free, but participants have to reserve a spot through Eventbrite.
Boston.com will receive payment if a purchase is made through the article.