Health
This rooftop yoga class overlooks the city—and a pool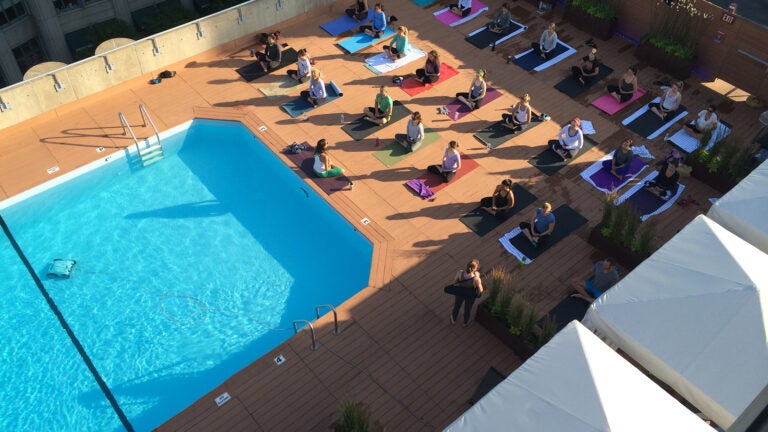 Sunrise yoga atop the Colonnade Hotel—overlooking the Boston skyline and the hotel's rooftop pool—has returned for the fourth summer in a row.
The Back Bay stay is bringing back Boston yogi and mindfulness expert Rebecca Pacheco every Wednesday morning beginning June 28. Pacheco will lead the moderate-level, vinyasa-style yoga classes, good for both beginners and regulars, from 6:45 a.m. to 7:45 a.m.
Pacheco, who has been teaching yoga for 17 years, said that the scenery is one of the most important parts of the class. She often instructs her yogis to look around as they're exercising and take in the skyline.
"It's a combination of a great workout and a peaceful oasis to start your day," Pacheco said.
Pacheco said she appreciates the class's mid-week scheduling.
"During the summer, especially in Boston, it becomes all about working for the weekend," she said. "[This class] is a great dose of summer during the week."
Classes are $20 and include a sweet smoothie afterward. For a total of $40, you can buy a ticket to the class and admission to the pool for the day (which usually costs $45 alone). Both the class and pool access are free to hotel guests.
You can preregister for the class on Eventbrite, but it's not required. The Colonnade will have mats available for those who don't bring their own.
Check out one of Pacheco's poolside yoga classes—and follow along—in this video:
It's Wellness Week at Boston.com! Join us for live rooftop yoga at the Colonnade Hotel Boston with Rebecca Pacheco of OmGal.com.

Posted by Boston.com on Monday, June 27, 2016
Wednesdays starting June 28 from 6:45 a.m. to 7:45 a.m.; The Colonnade Hotel, 120 Huntington Ave., Boston; admission starts at $20; all levels