Health
A wellness brand says 3 of America's most inspiring trainers are in Boston
Are these local trainers among the most inspiring in America?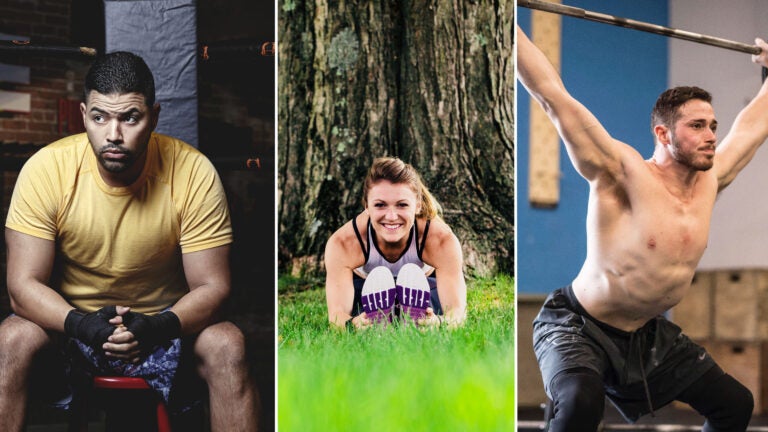 Online wellness publication Well+Good set out to find the most inspiring trainer in the country, and received nearly 5,000 entries. A judging panel by an internal team at Reebok has now chosen its 12 finalists — and a quarter of them are based in Boston.
Chris DaVeiga, a trainer at Everybody Fights in Seaport and the Financial District; Connor Griffin, a coach at CrossFit Boston Iron & Grit in West Roxbury; and Christina Muccio, a trainer at Barry's Bootcamp and B/Spoke in Downtown Boston and Wellesley are in the running for a yearlong contract with Reebok and plentiful coverage on Well+Good. The winner will be chosen via online vote, which closes Sunday.
Of course, no matter who takes home the trophy, you can start training with some of the best in the U.S. now.
Chris DaVeiga
Trainer, Everybody Fights in Seaport and the Financial District
DaVeiga's story: DaVeiga is a native Bostonian through and through who says he would "never, ever train outside Boston." He played football in high school and at UMass Boston. He rekindled his passion for health after his own deteriorated post-graduation.
"I was 300 pounds, had high cholesterol, high blood pressure," he said. "I walked into a boxing gym in South Boston, and that's when my passion for training and health blew up."
That was 10 years ago. DaVeiga started picking up classes, and eventually committed to training full time.
"I would go in before work, train people. Go in after work, train people. It got to a point where I had to decide to leave my day job, which was a really good job with benefits," he said. "But I took that risk to be a trainer."
What he teaches: DaVeiga teaches boxing, circuit training, and endurance classes at Everybody Fights.
What sets him apart: "It's the extra text message — messaging your client to say, 'How is your day?'" DaVeiga said. "The inside and mental health are the most important. The outside, that comes later."
Connor Griffin
Coach, CrossFit Boston Iron & Grit in West Roxbury
Griffin's story: Griffin is a self-described local city kid. He grew up attending Catholic Memorial School in West Roxbury, less than a 10-minute walk from Iron & Grit.
Griffin got into CrossFit while at Merrimack College. He wanted to stay fit, but he didn't want to play on a sports team.
"[CrossFit] gave me a sense of finding that competition," he said. "I like pushing myself."
He has an innate desire to give back and be part of the community, participating with Iron & Grit in events like last weekend's Beat the Streets, an annual fundraiser to provide inner city youth with fitness training and SAT prep.
What he coaches: Griffin teaches both CrossFit and bootcamp-style classes at Iron & Grit.
What sets him apart: "Anyone can put numbers down and tell people to work out and not motivate them," Griffin said. "It's about creating connections with people, finding out what's their 'why.'"
Christina Muccio
Trainer, Barry's Bootcamp and B/Spoke in Downtown Boston
Muccio's story: Following a collegiate athletic career in track, Muccio took a corporate job in New York City. That position took her to Colorado, where she realized she wanted to get back into fitness, so she started teaching indoor cycling three to four times a week.
"People said, 'I wish you taught more classes; I wish you were here more,'" she said. "And I kind of realized, I might be onto something here."
Her other driving factor for prioritizing health came from watching her father battle ALS over the past decade.
"I realized life is way too short. You could be diagnosed or be in a car crash tomorrow. Not to be a Debbie Downer," she said, "but why live your life for someone else?"
What she teaches: Muccio teaches strength and cardio interval classes at Barry's Bootcamp and indoor cycling at B/Spoke, in addition to personal training and online coaching.
What sets her apart: "I think there are a lot of negative connotations around being a personal trainer. There's so much hype around social media, what brand you're repping," Muccio said. "It comes down to the class, making them understand there's really nothing impossible they can't do."