Health
A renowned Boston yoga instructor on raising a mindful family
How simple practices can alleviate stress and improve communication.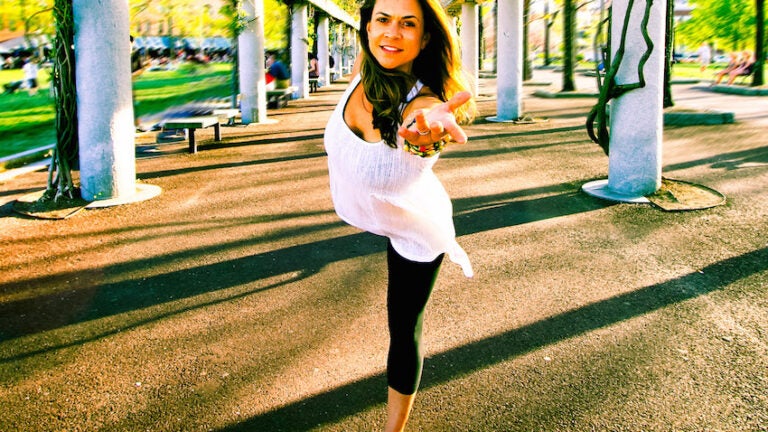 For an essential guide to the city, sign up for How to Boston, Boston.com's weekly culture and lifestyle newsletter.
Amid intense work demands and bustling kids' schedules, political news and reports of school violence, it's no wonder so many people feel like constant stress balls. Mindfulness and meditation can help, but how can the practices be integrated into family life?
Award-winning Boston yoga instructor Amy Leydon has advice on bringing mindfulness into the home. In addition to being one of Boston's most sought-after yoga instructors, Leydon is raising a four year-old boy with her husband in the city's North End, and she's no stranger to the pressures felt by parents today. Mindfulness, she says, is a "tool in the toolbox" for families hoping to communicate more effectively. Leydon uses mindfulness to reduce stress, open communication with her husband, and help her son learn healthy emotional management.
According to Leydon, mindfulness can be part of a formal practice, like meditation or yoga, or it can be as simple as asking yourself, "How am I feeling right now?" Fundamentally, mindfulness is "having an awareness of how you're feeling in any given moment," she said. Whatever the modality, Leydon underscores the numerous mind-body benefits of cultivating a mindfulness practice in the home.
"Physically, it helps us notice if we're repeating motions that are hurting our bodies," she said. "Energetically, it might help us notice something we're eating or a behavior we're doing that's making us feel tired or sluggish. On an emotional level, we recognize our feelings and can express them. So, if you have a recurring thought going through your head that says, 'I'm not good enough,' you can notice it and stop it, rather than letting those patterns take over and affect your emotional health."
Raising a mindful family
Leydon said children can be taught mindfulness as a method for coping with stress and learning healthy emotional expression as soon as they start developing language skills. The most important mindfulness technique she teaches her own son is "just to breathe," she said.
"I say to him, 'Take a breath through your nose, feel this moment, and talk to me. Tell me what's wrong,'" she said. "If you have the patience with them to give them a second to take a breath, you're teaching them mindfulness. What you do teaches them so much more than what you say."
While Leydon advocates using mindfulness as a way for kids to learn how to identify and express their emotions, she also said practicing family mindfulness as a parent can mean paying close attention to your child's stressors and recognizing when to adapt. Using her son as an example, she said she noticed negative emotional responses manifested most often when he was tired or feeling rushed.
"Just recognizing that I'm pushing him too hard and taking a step back is mindfulness," she said. "As any mom knows, sometimes your kid has a temper tantrum, and there's absolutely nothing you can do. But it starts with you. The more we practice as parents, the more our children will pick it up."
Helping children connect with their bodies by focusing on their breath or practicing yoga is also high on Leydon's list of cultivating mindfulness at home.
"For a child, connecting with their bodies is the most obvious way to be grounded in the moment," she said. "So it helps them learn to calm their bodies down in order to help calm their minds."
Building a mindful relationship
Leydon said she recognizes that practicing mindfulness with a partner poses unique challenges.
"Dealing with your partner is a whole other story," she said. "I think that's the hardest relationship for people to practice mindfulness in, because it can get so heated."
In times of conflict with a partner, Leydon stresses the importance of identifying your emotions before reacting to them.
"Say, 'I'm feeling angry right now,' recognize that feeling, and try to learn how to feel that in your body before you lash out," she said.
Despite her years of practice, Leydon said it took her a long time to get to the point at which she could identify her emotions well enough to address them in the moment.
"If I was feeling angry, I'd say, 'I'm fine,' but I wasn't fine," she said. "If you pretend your feelings aren't there, that's going to affect you in a really negative way."
Beyond checking in with yourself mentally, Leydon also recommends therapy for couples looking to practice healthy communication.
"Mindfulness teaches you to identify and feel your emotions," she said. "Therapy helps you figure out why you're feeling those things."
Getting started
Though Leydon said mindfulness can be brought into every aspect of life, she encourages some formal discipline, whether it's yoga or meditation, to help develop mindfulness skills.
Leydon integrates meditation and mindfulness into her yoga classes, which she teaches weekly at both of Exhale's Battery Wharf and Back Bay locations, as well as at Equinox's Dartmouth and Avery Street gyms.
In addition to practicing breathing exercises with her, Leydon's son takes yoga classes with Karen Shea, a yoga instructor who teaches childhood yoga classes via the North End Music & Performing Arts Center. Leydon recommends Shea for families hoping to introduce their children to yoga. She also recommends Christyn Schroeder, founder of KidPowerment Yoga, a child-focused yoga instruction company.
If the very idea of heading to yoga class makes you feel stressed, Leydon suggests listening to a podcast or reading a book centered around mindfulness practices. She proposes these from two fellow Boston-area yogis: Josh Summers' podcast, "Everyday Sublime," and Rebecca Pacheco's popular book, "Do Your Om Thing: Bending Yoga Tradition to Fit Your Modern Life," which Leydon says focuses on "simple mindfulness techniques that you can bring into your everyday life."
For a totally non-yogic read that still applies mindfulness practices, Leydon suggests any book written by Brene Brown, a University of Houston research professor and TED presenter whose written work explores her study of human connection and how readers can apply her research to promoting self-love and -reliance in their own lives.
Avoiding discouragement
Leydon points out that seeing the effects of a mindfulness practice might take time.
"This isn't something that's going to happen overnight," she said. "It's a lifetime of work, and you might not notice changes immediately."
Though she's been practicing for 20 years, she emphasizes that it's still normal to struggle with family life.
"By no means is my life perfect," she said. "My son pushes my buttons, my husband pushes my buttons, and I just want people to know it's something I have to practice every day. It will always be a work-in-progress."