Health
You can take yoga in a Himalayan salt cave — in Boston
The classes run through Aug. 15.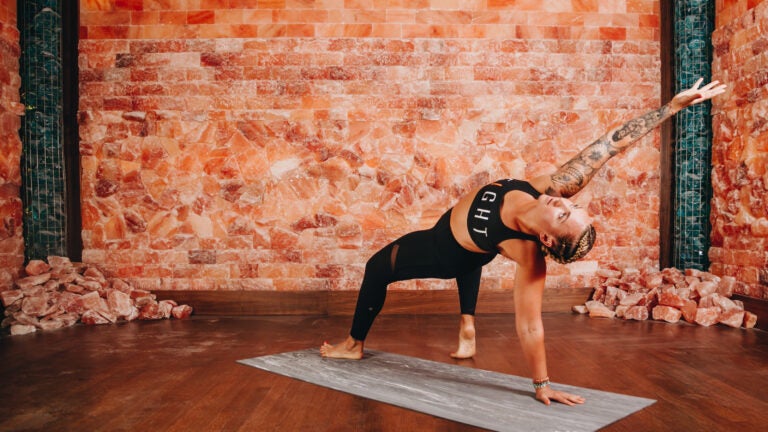 For an essential guide to the city, sign up for How to Boston, Boston.com's weekly culture and lifestyle newsletter.
Want to travel a little deeper in your yoga practice? Beginning Tuesday, Bostonians can do their downward-facing dogs inside a Himalayan salt cave.
Back Bay's G2O Spa + Salon has teamed up with EverybodyFights, a boxing gym with locations in the Seaport and Financial District, to offer 12 flow yoga classes in its 400-square-foot cave lined with Himalayan salt bricks, stones, and blocks, and equipped with a halogenerator that infuses the air with salt.
"It's just even more therapeutic," said Laura Mucci, the EverybodyFights yoga instructor who teaches the class. "If you're going to yoga and you're breathing and moving mindfully, that in itself is therapeutic. And then you're adding the benefit of the salt cave."
Christina Gallardo, director of marketing for G2O Spa + Salon, said the cave was added to the spa when the business moved from its Newbury Street location of 24 years to its current spot on Exeter Street earlier this year.
"That salt air is naturally anti-inflammatory and antibacterial," Gallardo said. "So it not only increases your mood and energy and decreases stress, but it cleanses and detoxifies your respiratory system."
Mucci, who has been with EverybodyFights for more a year, said her flow class is one of several classes offered at the boxing gym founded in Boston in 2013 by George Foreman III, the son of two-time world heavyweight champion George Foreman. The gym encourages members and visitors to train like a boxer by completing a five-part class series that includes circuit training, boxing techniques and bag classes, treadmill and endurance classes, and flow yoga.
"Flow, for my fighters, is an hour of yoga, stretching, mindfulness, meditation, and deep breathing," Mucci said. "It's designed to help you recover and restore. The breathing is really going to be a large focus [inside the salt cave], just based on the benefits you get from being in the salt cave."
While Mucci's classes at EverybodyFights can include up to 50 people, each salt cave class is limited to 10 attendees, which makes for a more intimate experience, she said. Attendees should wear athletic apparel and bring water and their own yoga mat.
"We live a fast-paced life," Mucci said. "It's important to slow down and take some time for yourself, to be more in tune with your body, your mind, your breathing."
(Flow yoga class inside a Himalayan salt cave; July 10-Aug. 15 on Tuesdays from 8-9 a.m. and Wednesdays from 6-7 p.m.; G2O Spa + Salon, Boston; $50; 18+)