Coronavirus Stories
I serve meals to people who don't have a home
Haley House staff member, Maya Ellis, shares how the coronavirus has impacted the soup kitchen and its vulnerable population.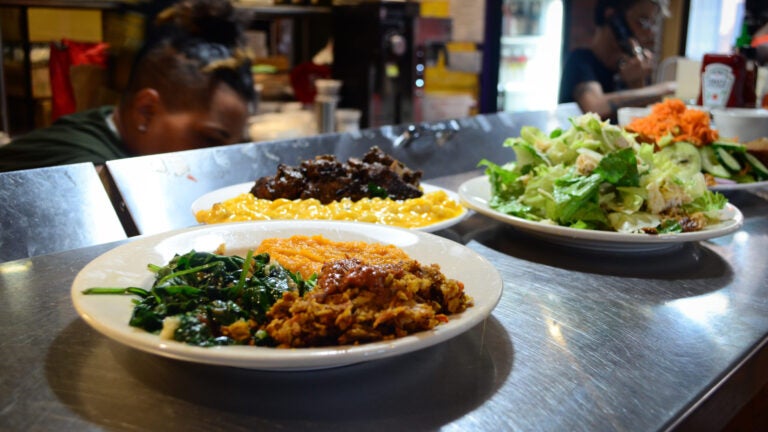 Coronavirus is affecting everyday life — even for those who have not been infected. We are sharing stories of its impact on local people. To share your own, please submit this form or email us at [email protected]. 
This story was told by Maya Ellis of Roxbury, and has been transcribed and edited from a conversation with Madelaine Millar.
My name is Maya Ellis, I'm 24-years-old, and I'm a live-in staff member at the Haley House. The Haley House started as a soup kitchen, and it has expanded a lot over the years to include services like long-term affordable housing and a social enterprise bakery and cafe. The full-time staff all live together in the same building where we provide services, and are responsible for running the frontline work.
Haley House soup kitchen is all about community. On a normal day, we're open from 5:30 to 9 a.m. and a lot of people come for that whole time. They sit there for hours and chat with their friends. We have an afternoon meal too, on Tuesdays, Thursdays, and Sundays. Usually in the morning we serve between 80 and 100 people, and in the afternoon, between 40 and 60.
With the outbreak of the pandemic, we're doing only takeout meals. The mood is definitely more somber. Right now we are serving about the same amount of people, but I kind of anticipate that things will pick up. I feel really concerned for our guests. I think once coronavirus starts to spread in the homeless community it's going to be really bad. Shelters are doing the best they can to keep people safe and healthy, but this is an immunocompromised, at-risk population. The places that they normally go for respite are all closed down. A big issue is that all the public bathrooms are closing, so people can't wash their hands. 
To reduce the risk of exposure, we don't have any volunteers at this time, it's just the staff. We're sanitizing our house and our soup kitchen a couple times a day. We're packing everything into bags and passing it across a six foot barrier, and we're trying to get people to line up six feet apart, only letting people come inside one at a time. We don't have any hand sanitizer right now, and we can't let people use the bathroom because it's too much contamination. It feels terrible to have people come inside to get a meal and not give them a way to clean their hands. If people have extra hand sanitizer around, please consider dropping it off to us at 23 Dartmouth St.
What feels so much scarier to me is to know how great the need is, and also to have so much uncertainty about how great it might become. We don't know how long this is going to last or how comprehensive government support is going to be.
This is what it means to be a vulnerable population. If you do have resources, please give to Boston Healthcare for the Homeless, Rosie's Place, Haley House — give to your favorite organization. There's such a lack of resources right now. If you have the ability, stay inside and be cautious. Some people don't have that option. And to folks who are struggling right now, who don't have access to food, who don't have access to a safe place, we are doing our best. We have people's backs, we're trying, and we really care. 
Readers can support Haley House by contributing to its emergency fund, purchasing gift cards, or donating non-perishable foods and hand sanitizer.
---
What are the symptoms of coronavirus, and how is it treated?
---
Get Boston.com's e-mail alerts:
Sign up and receive coronavirus news and breaking updates, from our newsroom to your inbox.