Health
Here's what it's like to be a student healthcare worker during the coronavirus pandemic
"It'll definitely stay with us forever."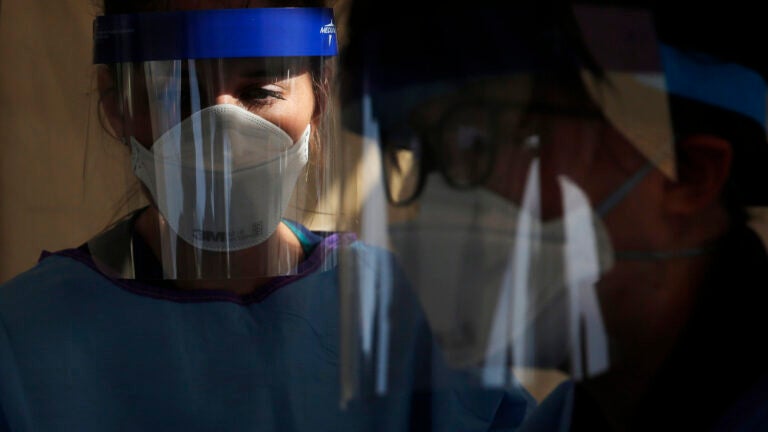 this form or email us at [email protected]. 
This story was told by Jonathan Harris, and has been transcribed and edited from a recent conversation with Madelaine Millar.
My name is Jonathan Harris. I'm a third-year health science major at Northeastern University, and I work part-time in a Boston-area hospital emergency department. On a normal work day, I take vitals, do EKGs, change rooms over after a patient leaves, help with procedures, and help patients use the restroom. 
When I worked this weekend, I was actually in an area that we've never had before, because we've set up a tent out in front of the emergency room for walk-in patients. We also had scheduled patients, which is something we've never had before. 
A lot of people haven't been coming in unless they're concerned that they have coronavirus, or that something else very serious is happening. I worked an 8-hour shift on Saturday, and it was not an overwhelming amount of people at all. People are staying home, that's good for now. But I am worried that in the coming weeks that the system is going to be overwhelmed.
I was initially concerned that I would contract the virus and then give it to an otherwise healthy patient. However, that fear has been lessened given the small number of patients that I've been seeing, and by our new policy that we're going to be wearing PPE (personal protective equipment) at all times.
I'm also concerned for other student healthcare workers who may have lost their housing. I was at work when I got the email from Northeastern saying that I had to move out. Co-ops and student workers have been deemed essential employees by the hospital, which is absolutely accurate; they're not able to terminate their co-op, and they're obviously not able to work from home. Some live in the state and are commuting from home, some of them have gotten extensions on campus housing, and some of them still don't know where they'll be living, even now. I know someone who is sleeping on a couch right now. I was lucky, I had a sublet set up. 
Public health is the distinguishing factor of my [health science] major. So looking around at the pandemic there's a part of it that's exciting, in a way, in the fact that this is history. I've talked to other student healthcare workers, and they've said someday it's going to be like, 'Oh wow, you were applying to med school during the coronavirus outbreak?' It'll definitely stay with us forever. But that's the long view. Right now, my concerns are for my patients. 
As much as you can, follow all the recommendations of the CDC. There's a lot of people who feel like [this crisis] is not really their responsibility. As a healthcare employee and just as a citizen, it's concerning that people are still going out. Still, for the most part, people are doing a good job of following the recommendations. I hope that more people continue to do so.
---
Get Boston.com's e-mail alerts:
Sign up and receive coronavirus news and breaking updates, from our newsroom to your inbox.