Health
'It's been three weeks since I've given him a hug': A first responder dad on parenting during the pandemic
"I see him through the window. I'll visit and I'll keep my 6-foot distance."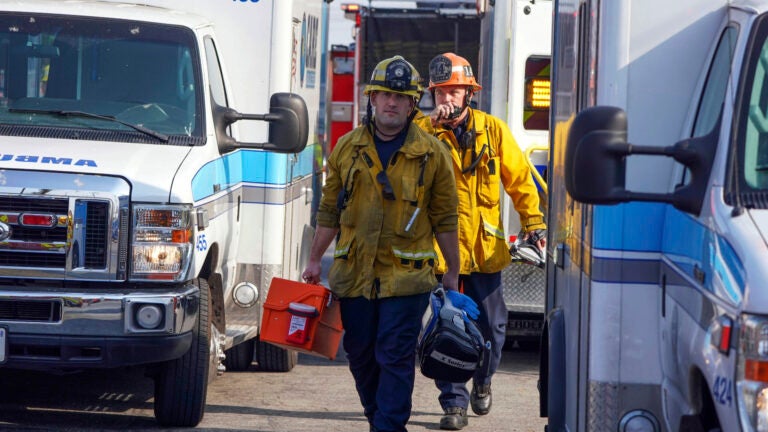 Coronavirus is affecting everyday life — even for those who have not been infected. We are sharing stories of its impact on local people. To share your own, please submit this form or email us at [email protected]. 
This story was told by Marc MacLaughlan, a Massachusetts firefighter paramedic, and has been transcribed and edited from a conversation with Kristi Palma.
My name is Marc. I am a firefighter paramedic. We take care of immediate, acute needs and get them to the hospital. We go in with, minimal, gloves and a surgical mask — even if the person was outside and tripped and has a rolled ankle. Because the virus can be asymptomatic. We have no idea who has it.
We'll ask a series of questions and we'll be updated on exactly what we're to do on each call and how we are to go into these calls. There's a little bit more work than there used to be because they're trying to minimize the exposure for people. You kind of have to assume [everyone has COVID-19] because of the asymptomatic people. So it's a new way of working on these calls. I'm out there as a first responder. I can only imagine what the nurses are going through. When we went in [the hospital] at the beginning of this, the nurses were doing their normal thing. The next time we went in, everybody had a surgical mask on. It's like, reality hits you. I give it up to them.
I'm a single dad and it's just me who takes care of [my son]. Before this, when I went to work, the grandparents — my parents — would take him the night before [my workday] and then they'd bring him to school and then I'd pick him up. I haven't seen him since the week of March 8. If I get [COVID-19] and I give it to him, and then I find out three days later that I have it, and then he has already gone over [to my parents' house], then there's a potential that he has already brought it over there. The grandparents are in their 60s — at the age where if they get it, it could be worse. It's been three weeks since I've given him a hug. I see him through the window. I'll visit and I'll keep my six-foot distance. It's tough. We have a close bond. It's just me and him. I'm nervous because one of his parents is already not involved and I don't want the second parent — me — to also not to be involved. It's scary to think he could be parentless.
I've been trying to write daily. One day I spent, unknowingly, at least two hours just writing. For a few reasons, I do it. [My son] is eight-years-old, he has no idea what's going on. When he gets older, he'll be able to read exactly what's going on to his kids and that he was there during this and [say], 'This is what my dad had written.' And it's a way to communicate your thoughts of what's going on without anybody interrupting. You just get it out. It helps.
You have to stay within your home group, whether it's family or alone. Alone is horrible, I get that. I am actually all alone, going stir crazy like the rest of us. You do need to get out once in a while, set a routine. What I do is I go walking. If you have a car and and can still afford gas, take the car out for a ride. Don't walk towards a square, towards a busy neighborhood. I've noticed that, with the weather getting nicer out, there are a lot more people coming out and they all tend to flock to where there's going to be a lot of people. It's natural. What you've got to do is, try to force yourself to go the other way. It's hard. I get it. It's hard for all of us to change.
I don't have my son here. The more that we isolate and do it the right way, the faster the people that can't go home get to go home, hopefully.
<hr>