Health
How 17 Boston.com readers are covering their faces
From a snorkel mask to an old shirt, readers share photos of how they take protective measures against the spread of COVID-19.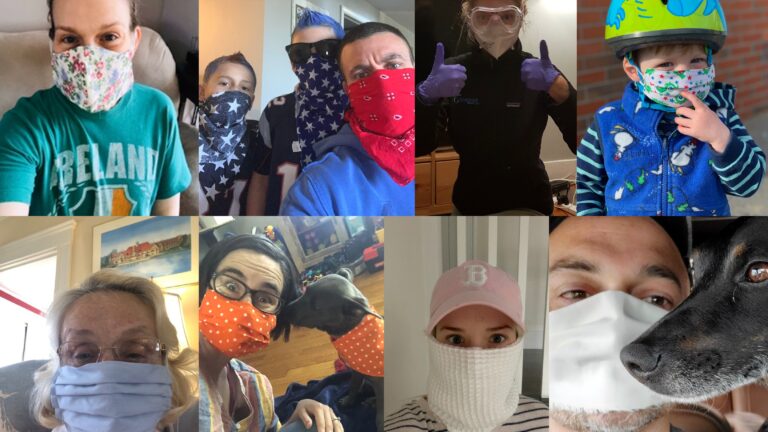 We recently asked readers to send in photos wearing their own masks or face coverings following the guidance from the federal government, the City of Boston, and on Friday, Mass. Department of Public Health. We received submissions from readers wearing bandanas, home-sewn masks, construction gear, hand towels, and more.
Ahead, see how residents are covering their faces to protect themselves and their community from spreading the coronavirus.
Responses have been lightly edited and condensed for clarity.
"I'm only 14, and the stress from this coronavirus is really getting to me. I'm just trying my best to help my community and do my part. I started making masks for my own family… I have given masks to my mother who is an LPN at a long-term health care facility, my aunt who is also a nurse, my grandparents, a Dracut resident who has lupus, arthritis, and fibromyalgia, and a pair of EMTs." — Curtis Chanthaboun
"My mother-in-law made this face covering and matching dog bandana. It's come in handy on a trip to get milk, and when Missy (dog, pictured above) and I go out together. Time to look cute while being safe!" — Carolyn Sweeney
"We turned our homemade masks into our pregnancy announcement. 🤣 trying to have some fun with our boredom." — Jennifer Pilalas
"I use a snorkel mask for grocery shopping which covers both my eyes and nose and a KN95 [mask]. Protected and ready to protect!" — Anya Dizhoor
"We are promoting covering our faces with our children to protect them while we walk our dog or they ride bikes in front of our house. They are having fun with it as they got to do it with spray painted hair one day. It's hard to act like we are not preaching, but we are trying to have fun with it to take the stress off of them." — Gregory D'Antona
"I'm using my 'Survivor' buff for trips to the grocery store and pharmacy. Thought the outwit, outplay, and outlast slogan was appropriate." — Diane Mello-Goldner
"I made our face masks from an old shirt of my husband's. I followed (YouTube) instructions and sewed my mask on my high school Singer sewing machine…mine is over fifty years old and performed beautifully." — Gay Colvin
"This is my daughter, Kristen White, of Abington. She is a 17-year-old high senior at Abington High School. Since the beginning of April she has made and distributed over 60 masks and still sewing! She uses 100% cotton. The masks are double layer with a pocket for filters. She is sending them out with a letter encouraging friends and family to be a superhero and wear a mask." — Barbara Von George
"Created this on Saturday which would usually be hockey night😩😩😩. Using it on walks in Charlestown and on the Esplanade. Stay strong by staying apart Boston!" — Andrew Ellis
"Hand towel folded in half and secured with two hair ties behind my head. Decently comfy and easy to wash. Topped off with my favorite Red Sox hat to keep the morale up! I hope I'm doing my part to slow the spread!" — Kelly Mullen
"I use my neck gaiter as a mask in the time of COVID. I normally use these things when hiking or walking in cool weather, but now I have a new use for them. They are cheap, available online, washable, and come in every style and color imaginable! Stay safe everyone!" — Glenn Laffel
"This is my son, Patrick Armstrong (age two), wearing his mask as we stopped on a bike ride to pick up a prescription. Miraculously he wore the mask the entire time in CVS. They are cloth masks that my wife's friend graciously made for us, including one for our 6-month-old that she refuses to wear. We are wearing them in public places where social distance is a challenge." —Sean Armstrong
"I call this 'your money, or your life' highwayman mask. The best I could do without any sewing talents in our house. I used it when I most recently ventured out to the grocery store." — Tom Turner
"This is Julian our 4-year-old wearing my sunglasses and his mask as we take a quick wagon ride around the block in Salem. He's been a great sport about putting it on which I am so thankful for. He said "Mom it's so sunny, can I borrow your shades?" I had to snap a picture!" — Raquel Frisch
"I live in Hull with my wife, our two boys, our rescue blue heeler Zoe, two mourning doves, and a chunky guinea pig named Captain Crunch. My mother is the Hull Children's librarian. With the Hull Public Library closed, she has been diligently working to sew and distribute masks to family and friends to keep everyone safe. The cloth is from left-over fabrics she has been collecting over the years. As of right now she can't make any more because she has run out of elastics. — Bobby Masland with his dog Zoe 
"I am 49-years-old and live in Millbury. I serve as general counsel/manager to a building materials supply company. This is a photo of me wearing my face mask when I go to the grocery store, post office, or the pharmacy. I wish I was wealthy enough to buy these for everyone that needs them." — Michael Georges
"Here is what I do when I go to a store. Virus has little chance." — Phani Kumar