Health
A Boston lawyer is spending her free time volunteering at Mass General
Payal Salsburg shares what it's like to be volunteering at Mass General during the coronavirus outbreak.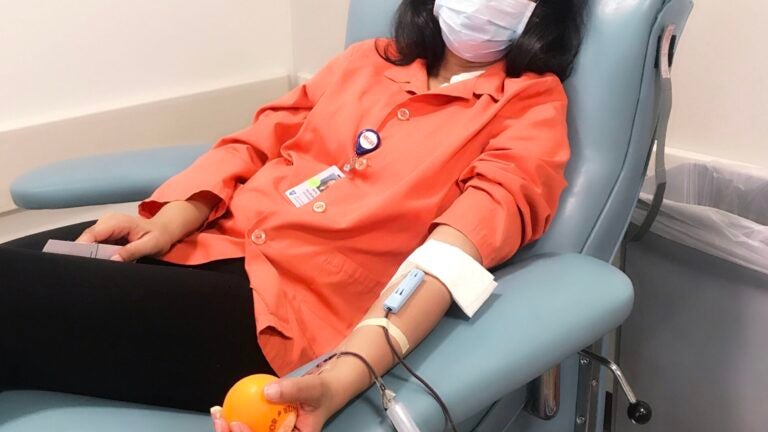 Coronavirus is affecting everyday life — even for those who have not been infected. We are sharing stories of its impact on local people. To share your own, please submit this form or email us at [email protected]. 
This story was told by Payal Salsburg, and has been transcribed and edited from a recent conversation with Madelaine Millar.
My name is Payal Salsburg, I'm a 41-year-old lawyer in downtown Boston, and I'm spending about 20 hours a week volunteering at Massachusetts General Hospital. I help nurses and doctors with patient discharges, and wheel them out of their rooms to the front of the hospital where somebody comes to pick them up. There are very limited visitations for patients, so we've also been taking gifts from loved ones — phone chargers, food items — and take them up to patients. It saves some time for the nurses or the other healthcare providers.  
I come from a service family — my father served in the Army for 30 years and my mother taught middle and high school — and I've always had this in my upbringing. It's in my bones. It's not so much giving back as paying it forward.
Prior to the [coronavirus pandemic], I volunteered on the pediatric floor. A lot of the volunteer programs were suspended to limit the exposure to people in the hospital. The only thing that remained open [for volunteers] was patient escorts for discharge.  
When we're wheeling patients out we'll be talking to the person in the wheelchair, and you just get to meet so many interesting people. The one [patient discharge] that stands out was an elderly gentleman who was a practicing doctor before he retired. As we were putting him from the chair into his wife's car, he basically said, 'I've looked after people my whole life, and now they're looking after me.' As a volunteer it just makes me feel warm about what I'm doing. I'm not in the trenches with the doctors and nurses, but I'm still having an impact on people's lives.
As volunteers we don't know whether the people we are helping are coronavirus patients, so we are careful around every patient. We have masks, gloves, and we are extremely careful about washing and sanitizing our hands. Every time we switch trips we sanitize the wheelchair. Anyone who walks into the hospital has to wear a face mask. 
Until it was suspended, I also volunteered on a weekly basis at the St. Francis House daytime shelter. The time that I used to spend there, I've started spending at Mass General. I've been going almost every day. The first thing I always ask, even in my law practice, is how can I help?
I recently donated blood, because there's a huge need for donors — whatever blood type you are — and I've been trying to encourage my friends too. I was in and out in five minutes.
For people who want to help right now, it doesn't seem like it's much but by not going out unless you absolutely need to, you are helping doctors and nurses who are out there fighting. If you are able, check in on neighbors who are elderly or neighbors who are immunocompromised. Call and FaceTime people who are by themselves and make sure that they're okay, because isolation can cause people to get depressed. 
You know, I moved to Boston in 2012 and it's really become home. Struggling through this pandemic and the city being shut down has really affected the whole community in a way that I could never have imagined. Boston is still my home and I'm very lucky that I can be a part of the city's efforts.