History
New film chronicles the spiraling decline of Gloucester's fishing industry
'Dead in the Water,' by Massachusetts-bred filmmaker David Wittkower, is one of a trio of documentaries to highlight the old port's story.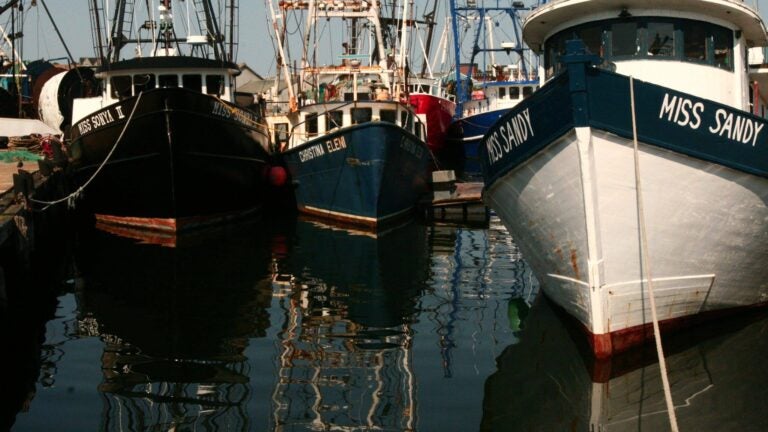 GLOUCESTER, Mass. (AP) — It's now been more than three years since David Wittkower, struck by the spiraling decay of the Gloucester groundfishing fleet, decided to make a film chronicling its decline from the robust fleet he remembered as a kid growing up in Rockport.
The making of Wittkower's film "Dead in the Water," as with nearly every film project ever devised, has been an arduous slog through an endless array of creative decisions and more earthly problems—chief among them how to raise enough money to create the film the Los Angeles-based director first envisioned.
Now, with the assistance of the Gloucester Fishermen's Wives Association and generous benefactors throughout Cape Ann, Wittkower is closing in on having enough capital to finish the film and assemble a working print, possibly by as early as Thanksgiving.
To do that, though, he still needs—what else?—more money.
"The fundraising by the Fishermen's Wives Association has been an incredible benefit, affording me the chance to work on making the film 24/7 instead of having to run around trying to raise money," Wittkower said. "The fundraising has been very, very important."
Earlier in the summer, Wittkower told Angela Sanfilippo, president of the Fishermen's Wives Association, that he needed about $65,000 to complete all principal photography and navigate the perils of the post-production process, where the film will be edited, scored and titled.
"This is a very, very important story and we need to get the word out," Sanfilippo said in response to the question of why the GFWA has taken up the documentary's cause. "Even in some parts of New England, people already think that the fishing industry is gone. We need to show that other people may be surrendering, but we're not."
Sanfilippo, no stranger to the vagaries of fundraising, got to work. She and others began contacting those on their list of donors and many, including Cape Ann Savings Bank and private citizens, answered the call with about $5,000 in donations.
Then providence arrived in the person of local philanthropist Linzee Coolidge.
In a meeting with Sanfilippo, former Mayor John Bell and Wittkower, Coolidge listened to the pitch and watched the trailer. He also heard Wittkower's vision for the film and said he's like a little time to think about it.
A few days later, Coolidge called to say he was in. He pledged $30,000 on the condition that they find a way to raise the other $35,000 first. Sanfilippo and the others went back to work.
She, along with supporters and benefactors from Cape Ann and beyond, came together to sponsor the Aug. 25 Sea-to-Supper fundraiser at Cape Ann's Marina's Mile Marker One party tent that featured several courses of fresh seafood drawn directly from the waters around Cape Ann.
"People have been so generous with their time and resources and of course their money," Sanfilippo said. "So many people came together to make this happen."
The event netted nearly $5,700, leaving the group about $25,000 from its goal and planning future fundraising events to supplement the private donations.
"We are going full steam on this," she said.
Meanwhile, Wittkower plans to return to Gloucester next week for about 10 days to finish pending interviews with Sanfilippo, Peter Shelley of the Conservation Law Foundation and other fishermen. He's also looking for a local fishing family he can follow around for a few days.
Then it's on to post-production.
"That's the hardest part because you're creating the story out of 50 to 60 hours of footage that you're turning into a one-hour film," Wittkower said. "The editing alone can take two or three months."
The best-case scenario, he said, would be to have a working print of "Dead in the Water" by Thanksgiving that he could then shop to distributors and cable networks such as HBO and Showtime to give the film as wide a play as possible.
He is working in a crowded field.
While "Dead in the Water" might be the most Gloucester-centric story, at least two other fishing documentaries that prominently detail Gloucester and its fishing story—"Fish & Men" by New Hampshire filmmakers Darby Duffin and Adam Jones and "Sacred Cod" by Steve Lis, Andy Laub and Boston Globe reporter David Abel—are either in the works or almost ready for presentation.
"Sacred Cod" is set to debut next week at the Camden International Film Festival in Maine. The Discovery Channel has purchased the global rights to the documentary and plans to show it among its programming beginning in 2017.
Duffin, in an email, said "Fish & Men" is in post-production.
"Our film is currently being edited and will be completed before the end of the year," Duffin wrote.
"We have a short list of film festivals we intend to submit the project to and anticipate it will premiere in early spring 2017."
Duffin, the film's director and producer, said the view from post-production is a far different vista than he and Jones envisioned at the outset of the project.
"It's been more complex and taken twice as long as we ever anticipated," he wrote. "This film has become a global odyssey."
Duffin's group began in Gloucester and spread out on an East Coast tour of the remainder of coastal New England, New York and Washington D.C. Then they headed west to California, working in Los Angeles and Santa Barbara, before traveling to Iceland and Norway.
"We could have simplified this project and saved ourselves a lot of time and money to focus on just the cod crisis and Gloucester story. I know that's what others may have chose to do," Duffin wrote. "But, I don't think that would have told the whole story and shined the light in the places to hopefully inspire real change."
___
Information from: Gloucester (Mass.) Daily Times