History
When Boston had a Playboy Club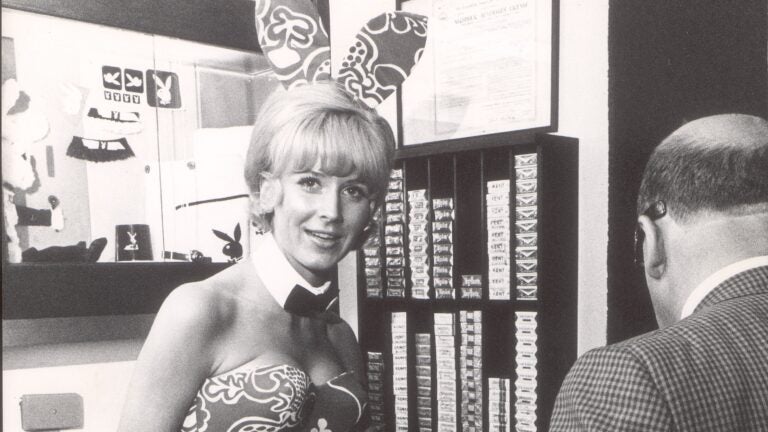 The first Playboy Club opened on February 29, 1960, in Chicago. It was somewhat modeled after the Gaslight Clubs — a chain that featured women serving drinks in corsets.
Six years later, a Playboy Club opened in Boston's Park Square, according to Boston Globe reports from the time.
It wasn't an easy sell, though. The club first applied for liquor and food licenses in 1963, but it was turned down because the licensing board felt that the club's trademarked bunny uniforms "might be a bit too daring for staid old Boston," the Globe reported. Licensing delays continued for three years before the club finally opened in February 1966.
Inside the membership-based club, patrons showed the "Door Bunny" a key before moving to the Playmate Bar or the live entertainment in the penthouse. Joy Tarbell worked as a Bunny at the Boston club and then on Playboy founder Hugh Hefner's jet, the "Big Bunny."
"Working for Hef for six years was a trip … so many parties and famous people," she told the Globe on Thursday, the day after Hefner died at age 91. "Yet he helped me realize that I could do anything I wanted."
In 1969, the Playboy Club of Boston made the news after two of its managers were killed in an attempted robbery. Hefner offered a $10,000 reward for the arrest and conviction of the killer, and a 25-year-old man from Georgia was later convicted and sentenced to life in prison.
The club also saw its fair share of protests. In March 1970, a group of fraternity members demonstrated while an MIT inter-fraternity conference was held at the club, arguing it was an inappropriate venue. Later the same month, a women's liberation group held a protest condemning the objectification of women outside the club, according to the Globe.
The club continued on regardless of the criticism for seven more years.
In 1977, however, the Playboy Club of Boston closed permanently, with its general manager citing the "financial condition of the Boston franchise and the club's location," the Globe reported. Other clubs around the country began to close as well in the late '70s, and the last Playboy Club in the country, the Lansing, Michigan, franchise, closed in 1988. There wouldn't be another Playboy Club in the United States until 2006.
View more photos of the Playboy Club of Boston in the gallery below.
[bdc-gallery id="5263183″]