History
Battle of Lexington reenactment kicks off a soggy, windy Patriots Day
Check out the Lexington Minutemen in action — in case you opted to stay indoors this morning.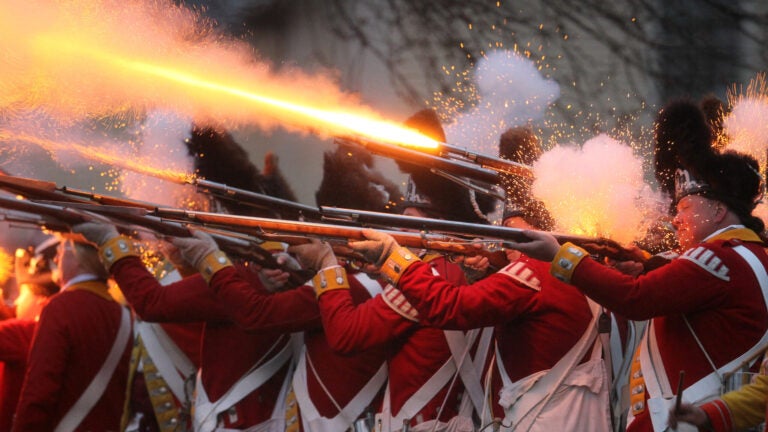 An annual Lexington tradition kicked off Patriots Day at the crack of dawn this morning, 243 years after the first battle of the Revolutionary War.
Every year on the third Monday in April, reenactors gather on the Lexington Green to recreate the Battle of Lexington, which was fought on April, 19, 1775.
As the British Redcoats made their way into Lexington, the town's militia men, or Minutemen, began to fight them on the Lexington Green.
A shot rang out as the Redcoats approached, and to this day, no one knows which side fired it. The Lexington militia men were outmatched: 700 Redcoats and only 77 Minutemen. Eight Minutemen died during the battle.
"The reenactment of the first shot: that to me is the essence of Patriots Day," said Thomas Whalen, historian, author, and associate professor of social sciences at Boston University. "To me that still sends chills up my spine, when you're on Lexington Green or the Old North Bridge. I don't think there's anything that can compare to it."
The Redcoats continued into Concord after the skirmish in Lexington. They fought more Minutemen and ended up retreating back to Boston.
In case you didn't wake up in time to see it (or didn't feel like braving the weather), here's what this year's reenactment looked like:
A bit smaller crowd than normal gathering for #Lexington reenactment, but ready to witness history. #PatriotsDay pic.twitter.com/d1XNTrcJDp

— Ben Parker (@radiobenparker) April 16, 2018
Militia men mustering pic.twitter.com/WSy5Jmplvq

— Joshua Miller (@jm_bos) April 16, 2018
Yikes pic.twitter.com/JkT7z3HjbB

— Joshua Miller (@jm_bos) April 16, 2018
Kristi Palma contributed reporting.