History
This Alaskan teen got his Make-A-Wish dream to be in Revolutionary War reenactment
John McConnell wore Colonial garments and led the march to North Bridge in Concord.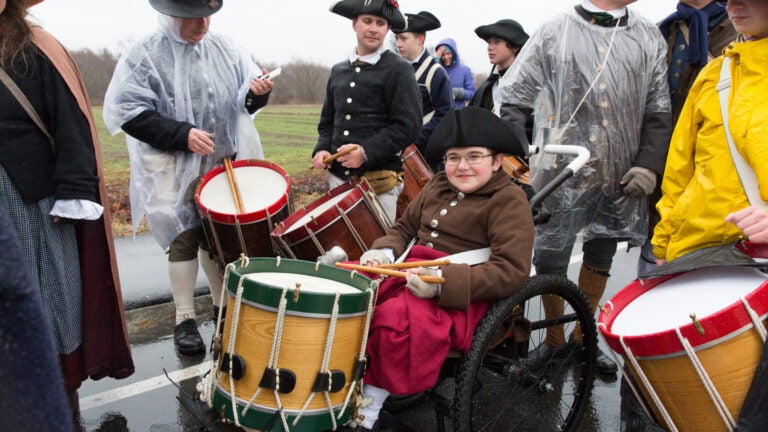 A few weeks ago, John McConnell, 14, got a special surprise at his school in Alaska.
"Paul Revere" showed up on horseback and proclaimed that McConnell's Make-A-Wish dream would be granted: On Patriots Day, he'd be in Massachusetts to take part in a Revolutionary War reenactment in Lexington and Concord.
McConnell's wish combined two of his favorite things: playing the drums and American history, specifically the Revolutionary War, which he became interested in during his sixth grade social studies class, according to Jordan Salvatoriello, a spokesman for Make-A-Wish Massachusetts and Rhode Island. The teenager, who is from Anchorage, Alaska, has Duchenne muscular dystrophy, Salvatoriello said.
In the weeks leading up to his reenactment, McConnell practiced his drumming by taking lessons via FaceTime with Anthony Jenkins, a drummer with His Majesty's 10th Regiment of Foot, as well as the Lincoln Minutemen.
Finally, on Monday morning, McConnell got up early, dressed in his Colonial attire, and watched the Battle of Lexington reenactment from VIP seats. Then, he led the the Acton Minutemen to Concord's North Bridge, tapping his drum along the way.
Although the Patriots Day Parade and reenactment in Concord were cancelled due to weather, the Minutemen didn't want McConnell to miss out.
They performed a reenactment for him anyway. He was also presented a signed picture frame and a special proclamation that his dream came true.
"The heart of it, for me, is that they were going to cancel it all," Salvatoriello said. "They called me, and I said, 'he still wants to march,' and they said, 'we are doing it.'"