History
15 historic local sites that aren't on the Freedom Trail
A Boston historian shares his picks.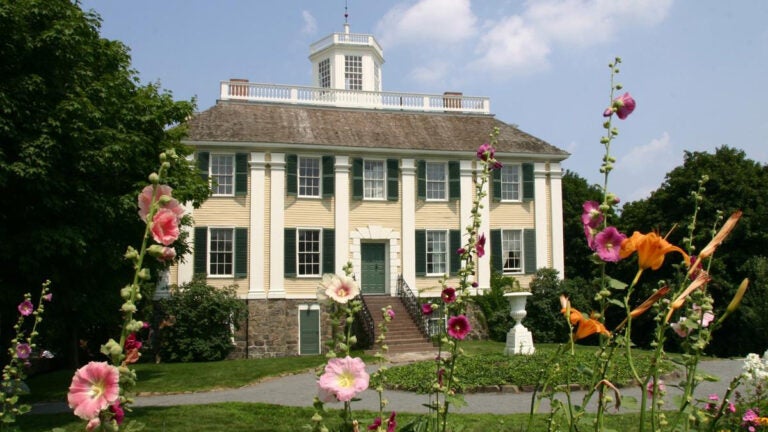 It's no secret that Boston is brimming with historic locations — just ask the people in colonial garb commanding an audience on State Street. Suffolk University history professor Robert J. Allison said he thinks it's great that Boston has a Freedom Trail, but that it does "suck all the life out of everything else."
"If any other city had one of these other sites, it would be the real feature of civic life. It would be on the city seal," he said. "But we have so much that it's easy to take for granted."
Allison picked out 15 less-frequented spots in the city that can also provide visitors with a good dose of history.
"You can tell so many other stories in Boston about people and immigration, about slavery and freedom," he said.
African Meeting House
Now the site of Boston's Museum of African American History, the African Meeting House is where abolitionist and writer Frederick Douglass delivered an anti-slavery speech in 1860, reformer and journalist William Lloyd Garrison founded the New England Anti-Slavery Society in 1832, and the Union Army's Massachusetts 54 unit of the Civil War was recruited. "That is the oldest black church in the country," Allison said. "That's definitely worth seeing." (46 Joy St., Boston; $10 for adults, $8 for senior citizens and children ages 12-17, free for children under age 12)
Dorchester Heights
This monument stands at the site of one of America's first victories during the Revolutionary War. "That's why we have Evacuation Day in Boston," Allison explained. He also said it's a great spot to visit for a view of the city. "You can see the Kennedy library; you can see the Blue Hills." (95 G St., Boston; free)
Forest Hills Cemetery
Spreading across more than 275 acres, this burial ground houses the remains of Garrison and poets Anne Sexton and e.e. cummings, among others. (95 Forest Hills Ave., Jamaica Plain; free)
Fort Warren
"The Harbor Islands are worth visiting in the summer for their history, as well as for their scenery," Allison said. Specifically, he recommended seeing Fort Warren on Georges Island, which served as a prison for Confederate officers and government officials during the Civil War. (Georges Island, Boston; free)
Gibson House Museum
Completed in 1860, the Gibson House is one of the only Back Bay mansions that is still open to the public and features its original furnishings from the Victorian period. (137 Beacon St., Boston; $10 for adults, $8 for students and seniors ages 62 and older, $3 for children under age 12)
Massachusetts Historical Society
The papers of the late presidents John Adams and John Quincy Adams and the late first lady Abigail Adams, as well as the private papers of the late president Thomas Jefferson, count themselves as part of this research library's collection. The society itself is the oldest of its kind in the U.S. (1154 Boylston St., Boston; free)
Metropolitan Waterworks Museum
Visitors to the Metropolitan Waterworks Museum, located on the site of the Chestnut Hill Reservoir and built in the late 1800s, can learn how 19th-century Boston got its water — and then drink up the views from the reservoir. "Boston has a great water system, and it's something we can take for granted," Allison said. "You wouldn't if you went to a place like Flint, Michigan, or most of the world where people don't have good water and you realize how important it is." (2450 Beacon St., Chestnut Hill; free)
Mount Auburn Cemetery
When this cemetery was founded in 1831, its park-like landscaping was the first of its kind. While still an active burial site, Mount Auburn also provides a tranquil walking path and the opportunity to spot local wildlife. (580 Mount Auburn St., Cambridge; free)
Nichols House Museum
Architect and suffragist Rose Standish Nichols resided in this 1804 home from 1935 to 1960. Today it operates as a museum to illuminate what life for a Beacon Hill family was like during the early 20th century. (55 Mount Vernon St., Boston; $10 for adults, $8 for seniors ages 65 and older, $5 for students, free for children ages 12 and under)
Otis House
This structure is the last of the Bowdoin Square mansions in the West End and the former property of the late Boston Mayor and Congressman Harrison Gray Otis. Its visitors can learn more about life in the late 18th century and the history of the home, which served as a clinic and boarding house, and is currently home to the Historic New England Library and Archives. (141 Cambridge St., Boston; free for Boston residents)
Paul S. Russell, MD Museum of Medical History and Innovation
Massachusetts General Hospital may be the third-oldest general hospital in the U.S., but it is home to a few firsts, including the first successful documented use of surgical anesthesia. A tour in the hospital's museum will also take you inside the ether dome, where that event occurred. (2 N. Grove St., Boston; free)
Shirley-Eustis House
According to Allison, George Washington saw this colonial governor's mansion on his way out of town in the 1750s. "When he inherited his half-brother's estate, he built his mansion to look more like the Shirley-Eustis House," Allison said. (33 Shirley St., Roxbury; $8 for adults, $5 for students and seniors)
St. Augustine's Chapel
Here, find the oldest surviving Catholic place of worship in Massachusetts and the oldest Catholic cemetery in Boston. "It's celebrating its bicentennial next year," Allison said. (181 Dorchester St., Boston; free)
St. Stephen's Church
It's the only church left in Boston designed by famed architect Charles Bullfinch. "If you are on the Freedom Trail and going through the North End, you're going past St. Stephen's Church," Allison said.  However, it's usually overshadowed by another nearby church. "You have this real architectural gem here, but of course people are focusing on Old North Church," he said. (24 Clark St., Boston; free)
Vilna Shul
This synagogue, which is nearly 100, has created an exhibit about Boston's Jewish population in its downstairs room. Look out for the small gems, including Allison's favorite: a velvet-lined pickle barrel that was used to hold the congregation's Torah scrolls. "It really can tell this whole story," he said. (18 Phillips St., Boston; free)