History
This auction has the earliest known mention of Babe Ruth in a newspaper and two of Paul Revere's engravings of Boston
The "How History Unfolds on Paper" collection is full of Boston-based items.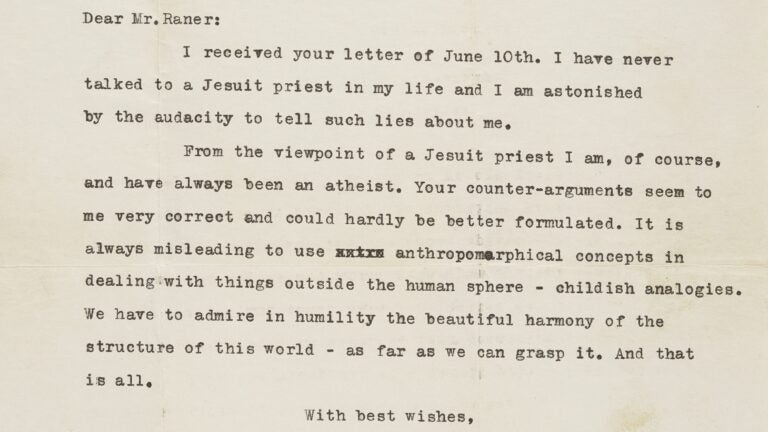 In 1914, some kid named Babe Ruth showed real promise in his pro baseball debut.
This "St. Mary's schoolboy is going to do plenty of twirling,'' the Baltimore News noted in its April 4, 1914 issue. It's the earliest known mention of Ruth in a newspaper in original form.
Shortly after the story ran, the Bambino went to the Red Sox.
The article is just one item up for auction from "Treasures from the Eric C. Caren Collection: How History Unfolds on Paper.'' The online-only auction is going on now through March 14 at 5 p.m. though international auction house, Bonhams.
A collector of baseball cards from about age 5, and a collector of "how history unfolds on paper'' since age 11, Caren has amassed a major collection — some 1 million original and rare newspapers, manuscripts, photographs, posters, broadsides, postcards and ephemera dating back to the time of Columbus, he said.
This is his seventh major auction in the "How History Unfolds on Paper'' series.
Among Boston-related items in the sale:
A printed broadside on the battle of Bunker Hill, 1775, a response to one of the earliest major battles of the Revolutionary War.
Two of Paul Revere's engravings of Boston, including one of the Boston Massacre.
A front page story on the Salem Witch Trials from The Athenian Mercury's Dec. 31, 1692 issue.
A 1777 commission signed by John Hancock, promoting Benjamin Lincoln to the highest rank Major General in the Continental Army. Lincoln had served as Major General of the Massachusetts militia.
Other gems in the auction include "The God Letter'' — a letter with envelope, typed and hand-signed in English, from Albert Einstein to a young US naval officer near the end of World War II. Einstein says he has always been an atheist: "We have to admire in humility the beautiful harmony of the structure of the world — as far as we can grasp it. And that is all.''
Bonhams is estimating a conservative $100,000-$200,000 on the letter, Caren said.
Caren's items, collected over a lifetime, are "like children to me,'' he said. "I don't have kids. I'm almost 60 . . . I want these things to go to people who will love them as much as I loved them.''
Lauren Daley