History
Reenactments of the Battles of Lexington and Concord continued despite rainy weather
Patriots Day began with the 244th Anniversary of the Battles of Lexington and Concord.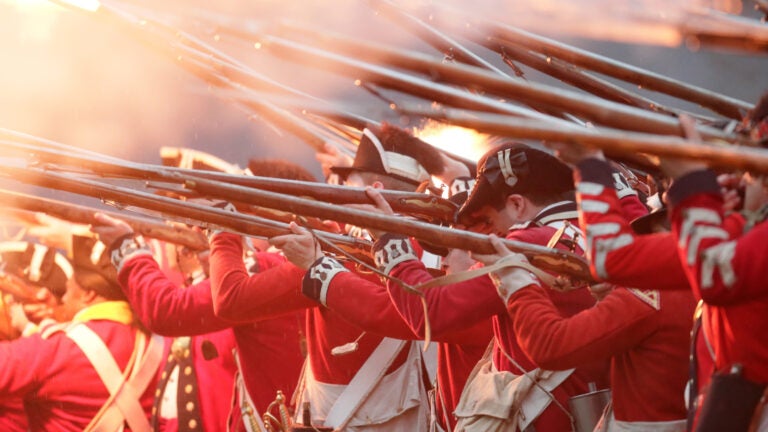 The Lexington Minute Men kicked off an early morning reenactment of the Battle of Lexington on Monday under a dark, gloomy sky.
Both the reenactment on the Lexington Green and a second reenactment at the Old North Bridge in Concord commemorate the Battles of Lexington and Concord on April 19, 1775, when British troops marched from Boston to Concord in order to seize a cache of weapons they believed to be stored in town. After exchanging fire on the Green — to this day, no one is certain who fired the first shot — the British Regulars continued into Concord in the hopes of destroying military supplies. At Concord's Old North Bridge, they were met by the Acton Minutemen, a company composed primarily of male farmers.
Leading the Acton Minutemen was Captain Isaac Davis, who marched his unit seven miles from his homestead to the bridge. On Monday, Davis was played by Newbury resident Steve Crosby, who has been with the unit for 18 years and has served as captain for the last 10.
"I like historical places and stories, and the greatest place and the greatest story to me is the Old North Bridge and the Acton Minutemen leading the advance of the British with Isaac Davis as captain at the front," Crosby said.
At the bridge, Davis was shot in the heart and killed by a British soldier. That shot, and the returning ones from the Minutemen, was immortalized in a poem by Ralph Waldo Emerson as "the shot heard round the world." Davis subsequently became known as the first commissioned officer to die in the Revolutionary War.
To get into character for both the bridge reenactment and the roughly 30 other events the Acton Minutemen and other neighboring units are involved in throughout the year, Crosby said that the company practices a drill called the 1764 Manual of Arms, a series of coordinated movements and musket positions that help the men and women work in concert with each other.
"Repetition is what turns a basic citizen into a soldier," he said.
Crosby also immerses himself in letters, books, and documents.
"After [Davis] was killed, his friends went to his house and itemized and valued everything that was owned," Crosby said. "I recently read through that, and what that does is it really helps to flesh out the person that he was. These were his belongings, his clothes, five pairs of britches, coats, all these gun making tools — so we know that he was a gunsmith, things like that."
Monday's reenactments began early, so if you weren't able to make it out to Lexington or Concord, here are photos and videos from the morning's events:
Re-enactment of the Battle of Lexington #LexingtonMA pic.twitter.com/NIumUo22Vu

— Sara Cuthbertson (@SCuthbo) April 15, 2019