Innovation
New Balance just got into the wearable tech game
The Boston-based company unveiled a watch that comes with GPS, a heart rate monitor, and a cheering committee.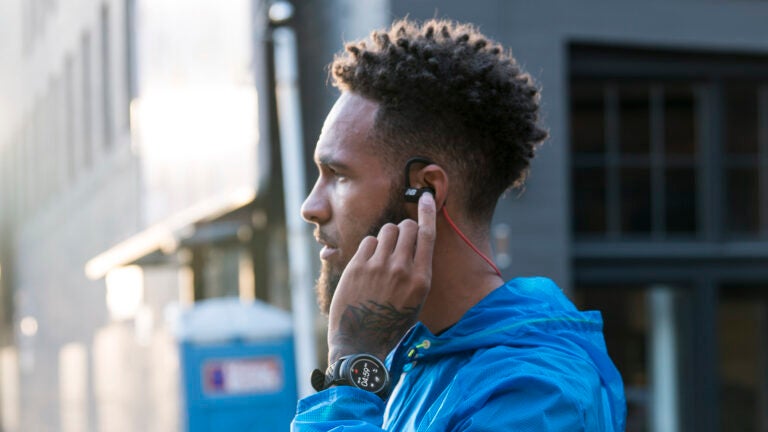 You know New Balance for their sneakers. But in 2017, the Boston-based company is expanding beyond footwear to help runners get the most of their workouts.
New Balance unveiled its first-ever wearable devices — a smartwatch and wireless headphones — at the Consumer Electronics Show in Las Vegas on Wednesday, a few weeks before the products' in-store debut (and three months before the Boston Marathon). 
The smartwatch, called RunIQ, is a waterproof heart rate monitor and GPS in one. When both of those features run continuously, New Balance says the watch will last five hours—generally enough time to finish a marathon. (During typical use, the watch battery lasts 24 hours.) It also records laps, measures pace and distance, plays music, and issues smartphone notifications.
Plus, the watch connects users via the New Balance Global Run Club powered by athlete social network Strava, letting runners compare routes and share their accomplishments, whether that's tackling a neighborhood hill or the Boston Marathon's Heartbreak Hill.
The watch is the result of a collaboration between New Balance, Intel, Google, and Strava.
New Balance also debuted wireless sports headphones called PaceIQ, with sound by Jabra. When paired with the RunIQ watch, they allow runners to get real-time performance updates while on the trail.  
Both products will be available at newbalance.com and in New Balance stores beginning Feb. 1, though customers can preorder the smartwatch now online. RunIQ costs $299.99, and the PaceIQ is $109.99.