Innovation
HubWeek has found a new home
The festival's initial lineup dropped this week.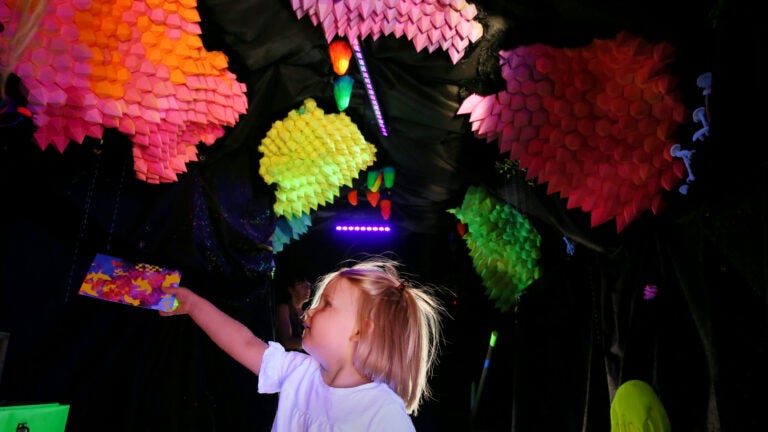 HubWeek is less than two months away, and the innovation festival released a first glimpse at its 2019 lineup this week. The biggest change this year will be location — the event has entirely moved from City Hall Plaza in favor of a sleek stretch of waterfront less than two miles away. Between Oct. 1 and 3, more than 50 speakers and dozens of curated experiences will descend on the Seaport.
This year's festival will give guests the opportunity to dance to beats curated by local DJs at a silent disco, soak up the sounds of live music, and wander among art installations. Additionally, Lime First Ride will give participants the chance to safely try out electric scooters, learn how to properly park, and get educated on how the technology can better city living.
As always, conversations with prominent thinkers will be central to the schedule. "Women at Work" podcast co-host and Harvard Business Review editor Amy Bernstein, for instance, will lead a discussion with Endeavor CMO Bozoma Saint John and and "Sober Curious" author Ruby Warrington about their experiences, lessons they have learned, and advice they wish they had received in the workplace.
A series of "Fireside Chats" will allow guests to hear best-selling author Michael Pollan, Tompkins Conversation president Kris Tompkins, and LGBT youth activist Jazz Jennings engaged in an intimate setting. And in "C-Suite Conversations," they'll get to hear from executives such as Boston Scientific CEO Mike Mahoney, Gradifi CEO David Chang, and former Gehl Foods CEO Katherine Gehl.
In addition to lectures and experiences, the festival will carve out space for attendees to get a little rest and relaxation, whether that's taking advantage of a lounge space, grabbing a coffee or snack in the Clubhouse, or sipping libations in the Cisco Brewers beer garden.
Elswhere around the fête of forward thinkers, scientists from Harvard University, Mass General Hospital, and MIT will discuss what's next in space exploration at "Explore Space," while the Open Doors Stage will give community voices a chance to shed light on what's fresh and exciting around the city. The documentary "Under an Arctic Sky" will also enjoy its Boston premiere at the event.
Registration for the October festival is now open.