Lifestyle
A Boston pizza place is trying something unusual. Here's how it can change employees' lives.
"It's a social experiment of sorts.''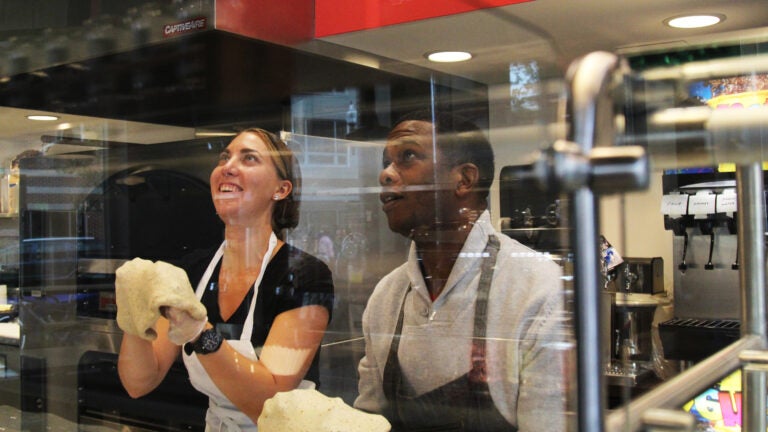 At Dudley Dough in Roxbury — which opens Thursday — you can buy a pizza made with locally-sourced dough by Boston Chef Didi Emmons and topped with veggies straight from the Thornton community garden less than half a mile away. You can eat an exclusive Toscanini's ice cream flavor made just for Dudley Dough called "Roxbury Puddingstone.'' You can even sip on local craft beers or Massachusetts's own MEM Tea.
But Dudley Dough goes beyond the usual "eat local'' ethos of supporting your community by buying local food; it hopes to change Roxbury's entire local economy.
"It's a social experiment of sorts,'' said manager Luther Pinckney. "Our goal is that a full-time employee can live off the wage of one job.''
Pinckney's idea sounds like common sense, but for a large number of Boston's residents, his goal is not their reality. People are working two or three jobs just to make ends meet, which Pinckney said leaves them little to no time with their families or to be involved in the community.
By creating a workplace that provides a living wage, Pinckney hopes, he's giving these people back that time. Roxbury has been changing, and he wants to be a part of that, he said, by being an example for other businesses to follow and maybe even creating a "new norm'' for the community.
"As we have seen firsthand in Roxbury, residents of inner-city neighborhoods (especially those of color) face a remarkably stark landscape: limited economic and employment opportunities, compromised health, heightened exposure to violence, and disproportionate risk of incarceration,'' the Dudley Dough website explains.
While food industry jobs are easily available, the website continues, seven of the 10 worst paying jobs are in that industry. The 13 million-plus restaurant workers in the U.S. face a poverty rate of nearly three times the rest of the country's workforce, according to Federal labor statistics.
Dudley Dough aims to change how people are treated in the hospitality industry, Pinckney said. "We as a society should be taking care of each other.''
But how does a small, locally-sourced pizza place change the reality of the food business? Profit-sharing.
"As soon as we start turning a profit, [the staff members] will start reaping the benefits directly,'' Pinckney said.
Dudley Dough's profit-sharing model isn't exactly a co-op, he explained, but the eatery's profit will be distributed among the staff based on how many hours they've worked. This not only alters the hospitality work landscape — "Serving up economic justice in a profit-sharing model'' is Dudley Dough's m.o. — but helps the employees build pride and feel like they're working more for themselves, Pinckney said. This, in turn, creates a better atmosphere for customers.
Like any great Bostonian (his roots are in Roxbury), Pinckney made a sports analogy.
"Belichick's big thing is 'always do your job.' Here we've adopted that but took it further: Everything is your job,'' he said. "When you come in and there's five people in the line, you don't need a manager to say, 'Jump in here and take orders.' You'll know to start a process because you want the best outcome for everyone. Everyone's pride and ownership makes sure every customer is taken the best care of.''
This idea is a new solution even for Haley House, the nonprofit organization that owns Dudley Dough, along with Haley House Bakery Cafe and the Haley House soup kitchen. Through those other ventures, Haley House has chipped away at inequalities by offering opportunities for young adults, single parents, previously incarcerated men and women, and more. Now they're taking on how the entire food industry is run.
Story continues after gallery: Inside Dudley Dough
[bdc-gallery id="144570″]
Dudley Dough has nine employees at the moment, including Pinckney, he said. It's a small staff, but it makes them close. There are a few young people who "have done McDonalds and Dunkin', and seen how colleagues are treated'' Pinckney said. They weren't interested in being in the food industry anymore, until Pinckney was able to get them on board with Dudley Dough's approach.
Two other employees have been in the food industry for 10 years, Pinckney said, but neither of them were earning near the $13.25 Dudley Dough plans to pay them once it turns a profit. Another employee, Joe Bartley, is even the first graduate from the Haley House Bakery Cafe Transitional Employment Program, which employs former inmates.
That was an amazing opportunity after 12 years of incarceration, Bartley said.
"Being able to get my foot in the door and learn about baking and cooking and teaching kids how to cook, the overall thing about giving back and being a part of the community — just being a part of that was mind-blowing,'' he said. "And then to be a part of a workforce and have people believe in you and trust you is awesome. I come from a background where I was in the streets, and I made a transition from bad to good.''
The profit-sharing part of Dudley Dough is exciting for Bartley, he said, because it could add another step to his career and and advance his life even more. He's heard of the idea, he said, but Dudley Dough is the first place he's witnessed put it into action, and he thinks it could create a bigger incentive for employees to come to work.
"To see it happening is beautiful,'' he said. "If they provide that for more people in other companies, it would probably give people more energy to involve themselves in the workforce, to be more of a part than just getting up and saying, 'Aw, I gotta go to work today.'''
Pinckney anticipates that Dudley Dough customers will be "met with many smiles.'' They all want the restaurant to be a special space in the community, he said. That's exemplified in the mural painting by local artist Gregg Bernstein, which highlights the individual workers of the neighborhood: images of construction workers, safety guards, teachers, and postal workers stretch across the wall facing the lobby.
"We want to be a place where local politicians come and sit down and talk to people of the community,'' he said. "It'll definitely be the type of place where you're going to run into someone you know or someone you want to know.''