Lifestyle
This 'paranormal journalist' named a Gardner mansion as the most haunted place in Massachusetts
His latest book, , also highlights the Lizzie Borden house and Spider Gate Cemetery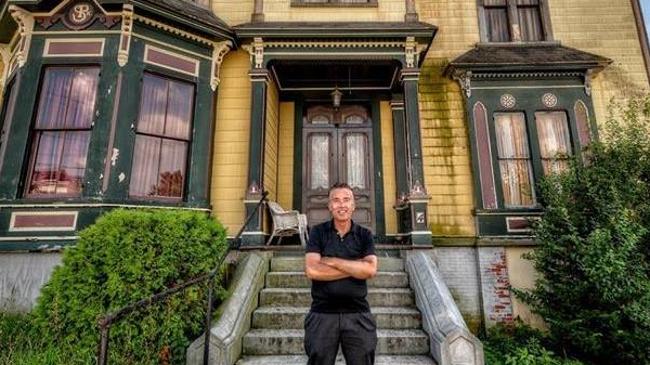 The first thing you need to know about Sam Baltrusis is that he believes in ghosts. He even thinks one drew him to the S.K. Pierce Mansion in Gardner, Massachusetts last year.
When Baltrusis walked into the mansion—a three-story, 10-room Victorian masterpiece in which people claim numerous stories of paranormal experiences have occurred—he felt terrified.
Last October, Baltrusis's friends Tina Storer and Rachel Hoffman, two paranormal investigators, explored the home and said they felt as if they couldn't breathe while inside. The mansion has also been featured on The Travel Channel's Ghost Adventures, SyFy's Ghost Hunters, Destination America's A Haunting and in Joni Mayhan's book Bones in the Basement: Surviving the S.K. Pierce Haunted Mansion, which details the experiences of a couple who lived in the home from 2009 to 2011.
That's why Baltrusis named it the number one most haunted place in Massachusetts in his latest book, 13 Most Haunted Massachusetts. When searching for spots to include in his book, Baltrusis said he was bombarded by people offering up their own spooky experiences at the mansion.
[fragment number=0]
Baltrusis has been exploring the paranormal for years after working as a journalist— doing time at MTV, Spare Change News, and Stuff Magazine—most of his life. His latest book is just one of four about what he refers to as this area's haunted history. He's also authored Ghosts of Boston: Haunts of the Hub, Ghosts of Cambridge: Haunts of Harvard Square and Beyond, and Ghosts of Salem: Haunts of the Witch City. He runs "ghost tours'' that visit those historic stops around Boston and Cambridge.
Baltrusis admitted that the rankings are "somewhat arbitrary,'' and people will question why the S.K. Pierce Mansion is listed as number one, but he worked with paranormal investigators and relied on friends, colleagues, and a bit of intuition.
He said he encounters doubters all the time—even his research assistant is a "complete skeptic''—but his aim isn't to convince you to believe in ghosts.
"My goal is to create history books with ghost stories,'' Baltrusis said. "If you look at those shows [like Ghost Hunters, etc.], they don't dive into why a place would be haunted, they're just looking for evidence. I give a voice to the ghost. My approach is to tell their story, like a journalist.''
[fragment number=1]
From his experience, Baltrusis said he finds that "New Englanders are typically kind of wary of talking about ghost encounters or their belief in ghosts. But,'' he said, "it's a hotbed of paranormal activity because of the history here.''
Baltrusis grew up in Florida, where he said it was pretty common for people to talk about spirits. He attributed New Englanders' hesitancy to their Puritan blood and history of witch trial hysteria, where any tie to the "spectral'' was used to condemn innocent people.
However, he said "the vibe has changed since writing my first book,'' meaning he doesn't have to convince people as much anymore.
At early book signings in Massachusetts, he said readers were embarrassed to buy a ghost book. One woman even asked for a brown-paper bag to hide the cover.
"I jokingly told her, 'This isn't porn. Well, it's ghost porn.'''
Get spooked at these 12 haunted locations
[bdc-gallery id="142189″]