Lifestyle
A guide to Boston's menswear scene (beyond fleeces and Sox hats)
Contrary to popular belief, Boston's got some pretty sweet threads after all.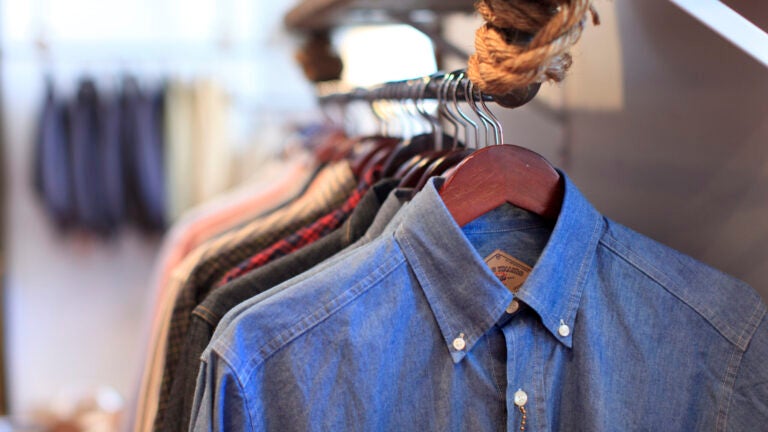 Men's lifestyle and fashion magazine/bible GQ released The GQ 100 list Monday, highlighting what they say are the 100 best menswear stores in America.
Somewhat predictably – the vast majority were located in New York City or Los Angeles, which totally didn't help Boston's inferiority complex. In fact, LA and NYC stores accounted for 45 of the 100 stores listed. The Boston area got two. That hurts.
We don't need to extoll Boston's virtues as a city (you can browse our site for those), but we can tell you about some of the cool menswear stores that are worth a visit that didn't get a mention, just in time for Black Friday and Small Business Saturday!
We're doing pretty well for a city GQ called the worst dressed in America just four short years ago.
1. SAULT New England
Stocking a mix of made-in-the-USA clothing, local foods, and the most stylish electric extension cord ever, SAULT in the South End is a beautiful little boutique-y menswear store that still has an innately 21st century masculine feel about it. Gift-giving season is coming up, and this is the place where you can find that special thing that a person didn't even know he needed.
[fragment number=0]
2. Bobby from Boston
OK, so this guy did make the list, and deservedly so. Bobby from Boston is a treasure trove of vintage menswear, from blankets to shirts and belts to shoes. Hours can be lost perusing through everything. Located right by the SoWa Vintage Market, Bobby from Boston naturally has the kind of vibe that new companies spend thousands trying to capture.
[fragment number=1]
[fragment number=2]
3. Bodega
Behind the unassuming sun-bleached storefront of what appears to be a grimy convenience store lies one of the sneaker world's coolest secrets. Like a bat cave of swag, Bodega is not just one of the coolest store concepts around, but also incredibly well stocked with all the latest releases and limited edition collaborations.
[fragment number=3]
[fragment number=4]
4. Ball and Buck
As if having a store with a wicked barbershop , a motorcycle, and one of the coolest collections of hunting-inspired menswear wasn't enough, founder Mark Bollman didn't stop there. He practically pioneered the Made in America movement with the American Field Market , a two-day trade show of the coolest American goods and manufacturers, which now has shows in four different cities on the East Coast.
[fragment number=5]
[fragment number=6]
5. Concepts
Often easy to spot by its line to get in the door even in the cold winter months, this Cambridge skate shop recently opened up an outpost in New York City. That's probably the reason that GQ heard of it – it's the second Boston store on their list. They carry major releases and frequently collaborate with other local sneaker companies like New Balance to produce some beautiful kicks.
[fragment number=7]
[fragment number=8]
6. JPress
A preppy American menswear mecca where else but right next to Harvard. Make JFK proud and check out its large collection of Ivy League color-schemed ties and scarves, super high quality coats, and brightly colored pants. JPress was bought by a Japanese apparel company in 1986, and the Japanese know a thing or two about menswear (see also: Uniqlo.)
[fragment number=9][fragment number=10]
8. AWOL
In a city full of streetwear options, AWOL deserves a mention. While prices for the coolest urban apparel can often spiral out of control, this store keeps its prices relatively reasonable. In the middle of the grungy Allston scene, AWOL stocks limited edition runs of sneakers, including local brand New Balance, as well as Nike, and Vans.
[fragment number=11]
9. Ministry of Supply
There's something inside men which gets us all excited and childlike at the mention of the word "space,'' so NASA technology being incorporated into shirts is the coolest thing in the world to us. This tech-y clothing company makes everything from winter jackets right down to socks and can elevate your workwear wardrobe to the 21st century and beyond. Take that, winter.
[fragment number=12][fragment number=13]