Lifestyle
Somerville residents are losing their minds with Christmas decorations
They're basically living in real-life gingerbread houses.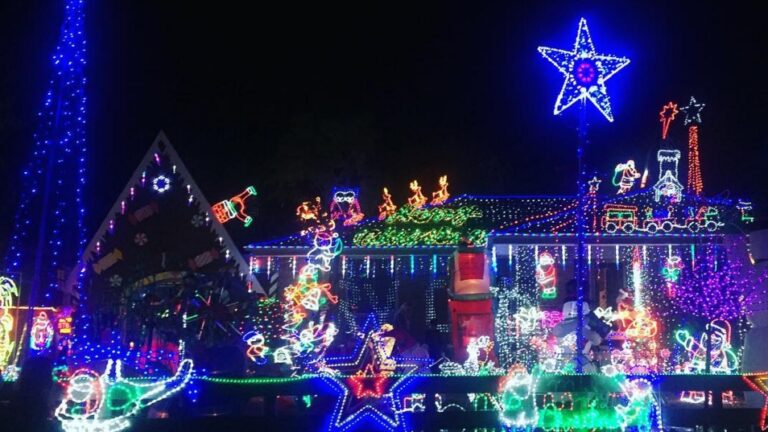 [fragment number=0]
You need to drive through Somerville right now.
You need to do this because it has transformed—like it does every year—into a luminous, enchanted, too-good-to-be true Christmas forest.
[fragment number=1]
Rainbows of string lights, blow-up Santas, Nativity scenes, and reindeers are lighting up Prichard Avenue as we speak.
[fragment number=2]
About 10 blockbuster homes—plus dozens of other eager neighbors—impress revelers annually, according to Somerville Arts Council's Cultural Director, Rachel Strutt. Expect Preston Road, Otis Street, and Robinson Road (there's one house known as the "House of the Floating Santa Head'') to be packed with holiday decorations.
[fragment number=3]
It's a "Keeping Up With The Joneses'' situation—it's infectious. Portuguese, Azorean, and Italian families are typically most active with the elaborate designs, says Strutt.
[fragment number=4]
Each year, the Somerville Arts Council plans The Illuminations Tour, a trolley ride through the streets beaming with luminous displays—there are separate routes for East and West Somerville. For a solo tour, grab a map at Blue Cloud Gallery or Magpie.
[fragment number=5]
The trolley jaunt through Somerville is in its 19th year and is still one of the city's most popular events — roughly 1,000 residents do it annually.
We recommend you check it out, too. Somerville goes all out.
[fragment number=6]