Lifestyle
New Balance is doing runners a solid by keeping Charles River paths snow-free
The Boston-based company is partnering with the Department Of Conservation and Recreation for the sixth winter.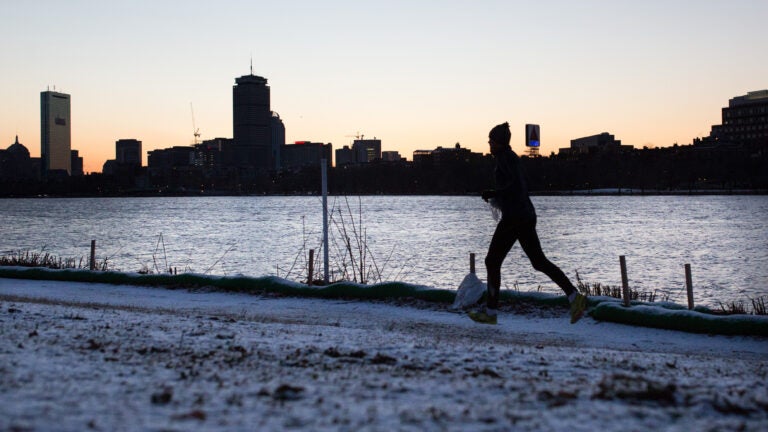 Boston is a city of runners—and residents who know how to deal with the full brunt of winter—which means we train all year round. Yes, even in the snow.
To make things easier, though, the Boston-based New Balance wants to help the city's runners this winter by teaming up with the Department of Conservation and Recreation (DCR) to keep your routes along the Charles River clear.
This is the sixth year that New Balance and the DCR have been Winter Running Fairy Godmothers. The partnership funds snow removal efforts along the 17-plus mile Charles River path system, from around the Museum of Science in Cambridge down to the Galen Street Bridge in Watertown.
Starting with the next snowfall, snow removal efforts will begin within 24 hours of a storm's end. In past years, New Balance has tried to roll out this effort with the first snowfall, but with the two most recent storms, they wanted to allow the city to focus on clearing the roads, New Balance press contact Mary Lawton said. Soon there will be banners hung along the river pathways to highlight the collaboration, as well.
New Balance will also host six events along the running path on Saturday mornings from February to April to offer winter running tips and to showcase new products.
"New Balance is proud of our long-standing relationship with the DCR and our commitment to help keep the Charles River paths clear throughout the winter for athletes,'' New Balance President & CEO Rob DeMartini said in a press release. "We are honored this partnership provides opportunities for locals and visitors to pursue personal goals and options to those looking to train in the winter months for spring races.''
Even more good news for local runners: If there's more than an inch of snowfall over downtown Boston, the New Balance Experience Store on Boylston will offer 15 percent off the day after the storm.
How's that for 120th Boston Marathon training bonuses?
Update:This post has been updated to reflect the fact that while this is the sixth year of the partnership, it's not the sixth consecutive year of it.