Lifestyle
Harvard Yard was an absolute madhouse today. Here's why.
Housing Day, explained.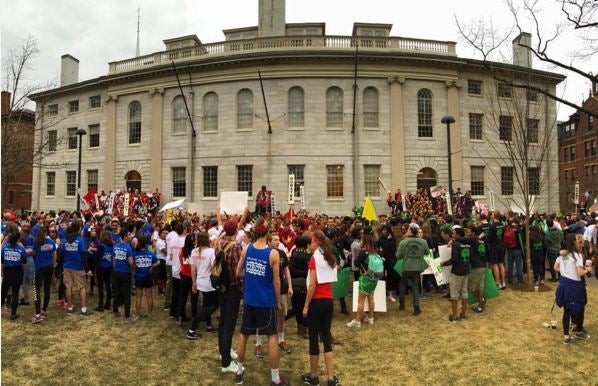 If you heard a lot of commotion in Cambridge Thursday morning, it was probably because of Harvard University undergrads running, yelling, and waving flags around Harvard Yard.
It's all part of a tradition that sounds straight out of Hogwarts: Housing Day.
[fragment number=0]
[fragment number=1]
Harvard students spend their freshman year in a dorm in Harvard Yard, but after that they live in one of the University's 12 Houses, designated for upperclassmen. A "House'' is essentially a big dorm, holding 300 to 500 students. Each House has its own dining hall, gym, library, mascot, colors, and traditions, according to the Harvard admissions office.
The housing placement works, like many colleges, with a lottery system, and Housing Day is when freshman students find out which house they were placed into. It's also a day for the upperclassmen of each House to show their pride, hence the yelling and flag waving.
[fragment number=2]
Students wake up early for the Housing Day excitement. Upperclassmen from every House congregate in Harvard Yard at around 7 a.m. to do their House chants, wave their flags, and run around in mascot costumes. (The students' din can be so loud, news stations once mistook Housing Day celebrations as a protest of the Iraq War, according to the University.)
[fragment number=3]
By 9 a.m., the Houses are given letters saying their incoming members, and upperclassmen deliver the letters to the freshman in their dorm rooms. From there, the freshman spend the day enjoying festivities with their new House, and the Harvard Yard chaos is over.
[fragment number=4]