Lifestyle
8 things to do outside in Boston
From biking spots to places to eat outdoors, here are some ways to soak in the sunshine.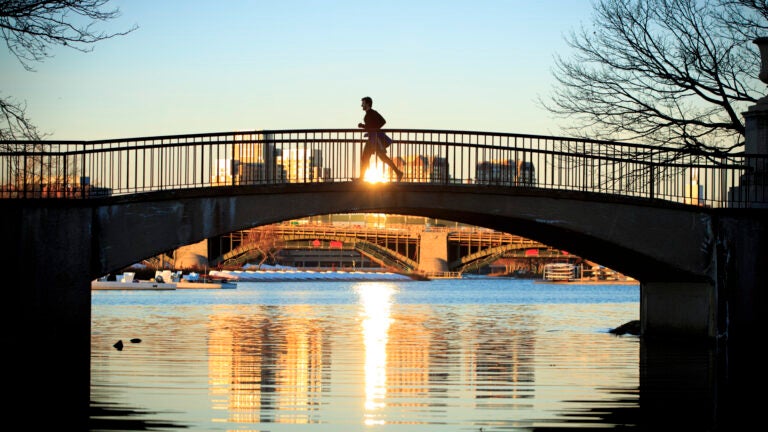 Boston.com meteorologist Dave Epstein has officially declared winter in Boston over. As we spring forward, spend the daylight hours in the fresh air. Here are eight ways to get outdoors this weekend.
1. Visit a food stand
Sullivan's on Castle Island is open for business, if you're looking to munch on a hot dog while you enjoy the harbor views. Places like The Clam Box in Quincy are open for outdoor service and dishing out fried seafood platters for those craving early summery tastes, as well.
2. Eat or drink on a patio
Looking for a masterfully curated beer list and some sunshine? Deep Ellum's patio is open. The Charlie's Kitchen beer garden is a good place to be social while sipping beers and munching on cheeseburgers. And the rooftop of Daedalus in Harvard Square provides a bit of a fresh ambience in one of the Greater Boston area's most bustling neighborhoods. All across the city, al fresco diners and drinkers are coming out of their caves—join them!
3. Take a hike
In need of some fresh air and some non-city sights? Trails at Minute Man Historical Park in Concord, Middlesex Fells Reservation in Medford, and many others are open for the exploring. Click here for plenty more hiking options within driving distance of Boston.
4. Visit a body of water
It may still be too cold for a swim, but water views always help to enhance the warm weather spirit. Walden Pond in Concord provides walking trails and pieces of local history along the way. Jamaica Pond in Jamaica Plain has plenty of cafes, bars, and restaurants nearby for a post-walk snack. For a cool skyline view, head to the Boston Harbor.
5. Take a bike ride
Want a look at Boston from two wheels? Not only is Hubway rolling out its bike rental portals this week, but trails such as the Minuteman Bikeway in Lexington and the Esplanade come alive in the spring and summer months. Click here for a larger list of local biking spots.
6. Chill in the park
The trees may not yet be in bloom, but now that the snow is gone, you can stretch out on the grass of the Boston Common, the Arnold Arboretum in Brookline, Christopher Columbus Park, or one of the many other green spaces in town. Pack a picnic, or bring a frisbee and show off your skills.
7. Road trip
Sometimes a drive with the windows down is the best way to soak in the warm weather. Take the car down to the 10-mile drive of Newport, Rhode Island and check out the enormous mansions and beautiful shoreline. Or head up north to weave through the rolling mountains of Vermont (maybe even stop to grab a beer). Here are some good options for scenic drives.
8. Hit the links
Brush up on your drives and putts before the season gets really busy. The George Wright Golf Course is open for tee times, as is the William Devine Golf Course at Franklin Park.