Lifestyle
5 things to do in Harvard Square
The Cambridge 'hood has top-notch spots for eating, shopping, and strolling.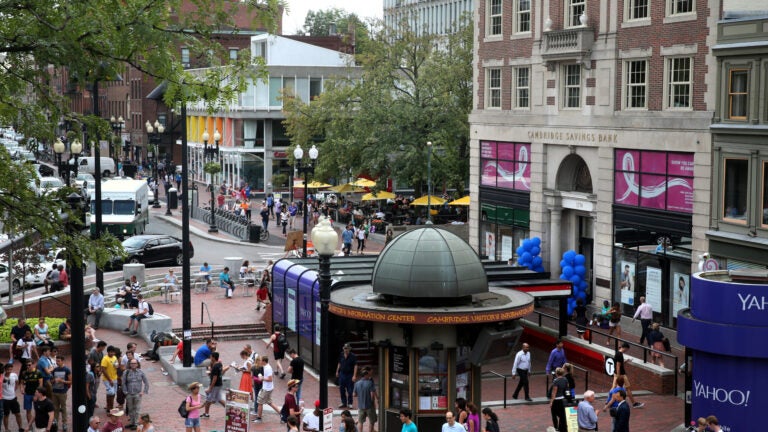 You know Harvard Square as Cambridge's historic neighborhood full of centuries-old brick, Good Will Hunting references, and Ivy League charm. From shopping to strolling to browsing to eating (so much eating), here's a quick rundown of what not to miss on your next trip to Harvard Square. Because we know that trip will be soon. (If it's this weekend, check out what to expect forecast-wise.)
Grab brunch at Henrietta's Table
The homey, farmhouse-inspired spot by by chef Peter Davis offers "honest to goodness New England cooking," including traditional options like waffles and eggs, as well as more unique platters from their buffet with pâté, cheeses, and oysters. To avoid headaches, snag a reservation through OpenTable. If they're booked, Harvard Square has other options, like Russell House Tavern, Park, Alden & Harlow, and Zoe's.
Work off breakfast with a stroll through Harvard Yard
Get the most out of the Yard without acting like a tourist. Walk through the concrete space between Harvard Yard and Harvard's Cabot Science Library on Cambridge Street for a hidden place to sit down and relax. Food trucks like Chicken & Rice Guys and Bon Me frequently make stops in the area. If that doesn't pique your interest, you can challenge (and probably lose to) to a really good chess player outdoors at Forbes Plaza.
Circle back and buy a book at Harvard Book Store
Harvard Book Store faces the Yard, sports an attentive staff, and is really fun to get lost in (and you can also print your own book there). If you don't find something, a few steps down Plympton Street is Grolier Poetry Book Shop, which specializes in — you guessed it — poetry! The Harvard Coop Bookstore has more of a Barnes & Noble vibe, with a wide array of book displays and tables. Raven Used Books is also worth a stop; they're particularly proud of their philosophy and social theory collections (among others).
Pick up some artful knick-knacks at Black Ink
Black Ink the neighborhood's go-to for mementos like letterpresses, kitchen gadgets, and organic soaps. The gift options are endless. If you want more, though, stop into Salt and Olive for high-end oils, vinegars, salts, and spices. While you're at it, head on over to Leavitt & Peirce, a hub of the manliest of manly gear, for tobacco and pipes, old-fashioned shaving supplies, and cuff links.
See a movie at the Brattle
The Brattle is a one-screen, independent theater that draws a lot of film buffs for its themed weekends (Friday, April 15 commences Muppet Madness weekend) and combo events, like screenings followed by discussions with the directors or writers. It's a great place to grab a beer and candy and kick back for a movie you haven't seen in awhile. Or, if you're looking for live entertainment, catch a show at the Comedy Studio (right above Hong Kong restaurant), or head to Beat Brasserie for live jazz or blues.
Correction: A previous version of this story implied that the Harvard Book Store is owned by the university. In fact, it is privately owned and independent. The story has been updated to reflect this.