Lifestyle
How to make new friends in Boston
There are four easy things you can do right now.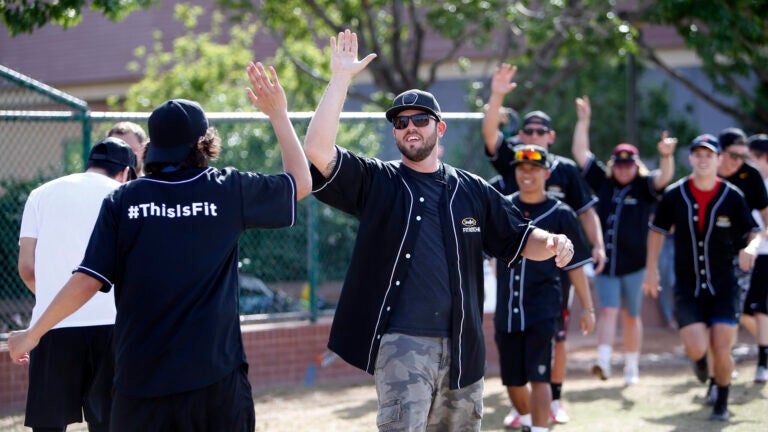 For a city so heavily concentrated with young people, it sure can be hard to meet friends in Boston. Perhaps it's the segmented neighborhoods, or maybe it's the long, dark winters, but finding new pals in the city isn't always easy, especially after college.
"Boston is a big small town," said Meredith Goldstein, Love Letters and Names columnist for Boston.com and The Boston Globe. "It gets a bad reputation for being difficult to find friends, but I really don't think it deserves it."
We spoke with Goldstein and Laure "Voop" De Vulpillieres, who teaches the class "Checking In: Meeting New People" at Society of Grownups to look at the city from a different angle. Here are some of their tips for finding pals in Boston this spring:
1. Find groups that meet regularly
Boston offers a lot of events, from concerts to beer festivals, that bring people together, but that don't necessarily set up lasting relationships.
"One mistake that people make when trying to make new friends is to go to events that are one-off," De Vulpillieres said.
To cure this, De Vulpillieres suggests finding events that meet with some consistency.
"There are a lot of different options here: meetups, leagues, art classes are great, too," she said.
Goldstein suggests running and biking clubs like the November Project for those who are interested in fitness and the Institute of Contemporary Arts's weekly outdoor parties for those who enjoy art.
"Don't do something you don't want to do just for the sake of meeting people," Goldstein said. "It will suck and you will suck in it. Gravitate toward things that you would actually do on your own for fun."
It may seem like common sense, but finding a hobby that you're interested in to share with others is an important step.
2. Maybe avoid the bar
Boston has a rich bar culture, and people often spend their weekend nights inside one of the many local watering holes. But if you're looking to find a new long-term pal, relying on "liquid courage" might not be the smartest plan.
"Drinking events are useful for making friends for a night," De Vulpillieres said. "But you want to have some regularity to it, if you really hope to connect with people, drinking a lot as a regular event may not be a good fit for everyone's lifestyle."
3. Combine friend groups
Going out to the movies with a new buddy is an exciting thing, but it can end up turning into a chore if scheduling individual playdates becomes routine.
"One thing that can be challenging is that you might have coffee with someone a few times and really like them, but where do you go from there?" De Vulpillieres said. "If you don't know their friends and they don't know your friends, what often keeps happening is you go on what I call 'friend dates.'"
De Vulpillieres suggests that after a few of these dates, you either invite this new person to hang out with your group of friends, or informally ask if you could tag along next time they hang out with their pre-existing friend group.
4. Find the college friends you never thought you had
"It's sometimes transient here," Goldstein said, "so there are a lot of people coming right out of college who don't necessarily come with friend groups."
Goldstein recommends connecting with some of the folks who arrived in Boston from your same college, even if they weren't close with you while you attended.
"There are a lot of strong alumni groups in Boston," Goldstein said. "I found my college alumni group on Facebook, and they regularly host events in the area."