Lifestyle
Meet the new puppy (and future star) of Acorn Street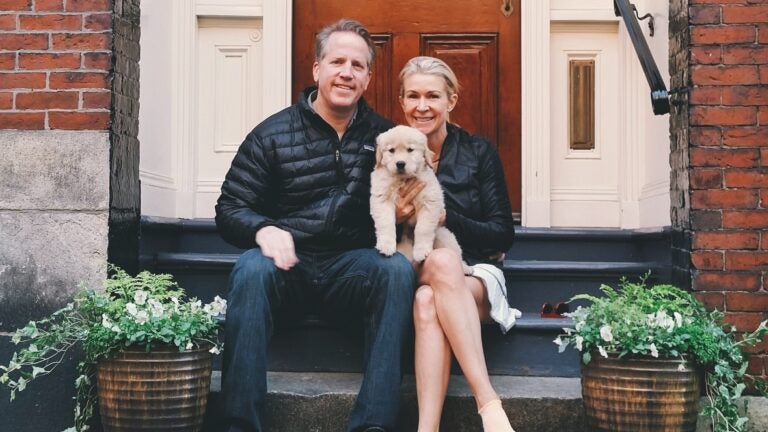 It would be impossible to replace Callie Rose, the golden retriever who lived on Acorn Street in Beacon Hill until her passing last December. But this little ball of fluff will no doubt draw in passers-by the way her photogenic predecessor did.
Owners Joe and Kristin Casey haven't decided on a name yet for the 9-week-old female, but they say they will likely use "Rose" in the name again.
Callie was the most famous stoop dog in Beacon Hill, if not all of Boston. Mellow even for a golden retriever, Callie could often be found napping on the cobblestones in front of the Casey's home. She patiently tolerated the many tourists and other visitors to Acorn Street, said to be the most photographed street in America, with its brick row houses dating from the 1820s.
Callie may well have been one of the the most photographed dogs in America, with appearances in countless photos on Instagram, where her passing late last year was marked with tributes and its own hashtag, #CallieRIP.
The puppy looks large for just nine weeks, and Kristin Casey says she was the biggest of the litter. The pup is lighter in color than the almost red-haired Callie. And, judging by her behavior Saturday afternoon, she's a lot more energetic too. But Joe Casey said he recently took the pup for a walk around Beacon Hill without a leash and she stayed by his side the whole way.
While the Caseys say they're excited about raising the puppy, they still keep a framed photo of Callie that's visible through the sidelight window to the left of the front door.
Brian McWilliams is a history buff who shoots photos of the city on his walking commute. You can find more of his work on Instagram and Twitter.