Lifestyle
Ten places to watch the Kentucky Derby in Boston
Break out your fancy hats, it's Derby time.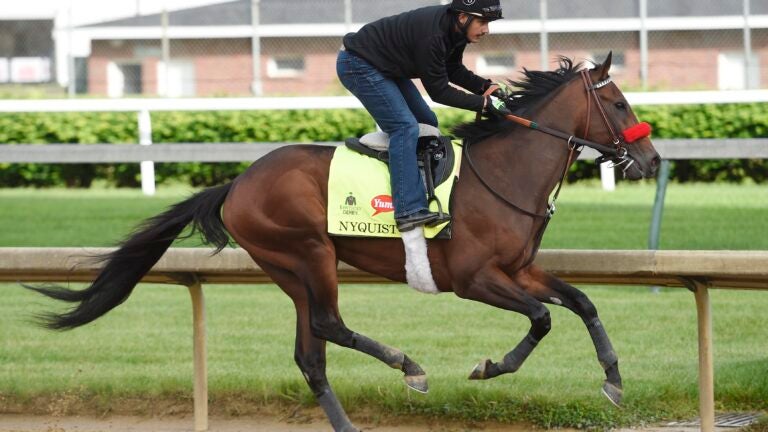 According to oddsmakers, the horse most likely to win the 2016 Kentucky Derby—which airs Saturday May 7 at 6:34 p.m. on NBC—is an undefeated 2-year-old named Nyquist. But unless you're one of the few horse-racing fans left in America, odds are that Derby Day is less about the most exciting two minutes in sports and more about getting dressed up, playing lawn games, sipping on mint juleps—and sometimes even raising money for a good cause. Lucky for you, there are plenty of bars in the Boston area that offer exactly that.
Boston Chops
1375 Washington St., South End, Boston
Chef Chris Coombs will prepare roasted suckling pigs for guests to enjoy with their mint juleps, Woodford Reserve and Mumm's sparkling wine. Tickets for the party cost $30 and are available online.
Five Horses Tavern
400 Highland Ave., Davis Square, Somerville
Name-wise, there's no better place to watch the Derby than this Davis Square bar, with Five Horses promising contests, awesome prizes, mint juleps, rum punch, sweet tea, derby snacks and plenty of Four Roses pecan pie squares.
Rosebud American Kitchen and Bar
381 Summer St., Davis Square, Somerville
Rosebud's Derby soiree will feature a mint julep bar on the patio, derby-themed food, and prizes for best-dressed and best hat.
How to make a mint julep:
Cask 'n Flagon
62 Brookline Ave., Fenway, Boston
With more than 60 HDTVs, there aren't many bad seats for watching the Derby at this Fenway favorite. Chef Donley Liburd will be offering brisket, marinated chicken, and baby back ribs, along with all the homestyle sides you could as for.
Olde Magoun's Saloon
518 Medford St., Magoun Square, Somerville
If juleps aren't your thing, this Magoun Square bar has 30 different bourbons, Founders Kentucky Breakfast Stout, and food specials like the Kentucky Hot Brown and a Pork Chop sandwich available for Derby Day.
Society on High
99 High St., Downtown, Boston
This swanky Financial District restaurant will have a mint julep muddling station, punch bowls full of Stella Artois Cidre, and a silent auction with proceeds benefitting the Great American Foundation. Tickets are $10 and are available online.
Sterling's
60 State St., Downtown, Boston
If you want to party with some real Kentuckians, the University of Kentucky Alumni will be hosting their Derby party at this Downtown bar. You don't have to be a Wildcat to mix it up with the UK crew at this bash, which will include a cornhole tournament, contests for attire, and free food with purchase of a ticket ($35 online, $40 at the door). Proceeds will go toward the UK Scholarship Fund.
Fenway Park
20 Yawkey Way, Boston
Watch a legendary sporting event at a legendary ballpark with this party benefitting Summer Search's Young Leadership Committee, an immersive program for low-income students to reach their potential. Held in the exclusive EMC Club behind home plate, a $75 ticket gets you complimentary hors d'oeuvres, wine and whiskey cocktails, and Sam Adams beer. The event also has a silent auction, with items like Patriots tickets and luxury hotel stays up for grabs.
Central Wharf Co.
160 Milk St., Downtown, Boston
The Boston Young Professionals Board is holding their Derby party at this high-class Downtown bar. A $50 ticket (available online) gets you complimentary food and beer, wine and mint juleps from 4:30 to 6:30, a fun photo booth, and a number of fun raffles and contests. Proceeds to go Good Sports, a charity dedicated to providing sports equipment, apparel, and footwear to children in need.
Coppersmith
40 W 3rd St., South Boston
Heading to this trendy Southie spot will get your group a complimentary appetizer if you wear a Derby hat and a great view of the race on the bar's 12-foot projection screen. There will be plenty of ribs, wings, and juleps on hand as well.