Lifestyle
The famous Steaming Tea Kettle on Court Street was taken down for repairs
The landmark was manufactured in 1873.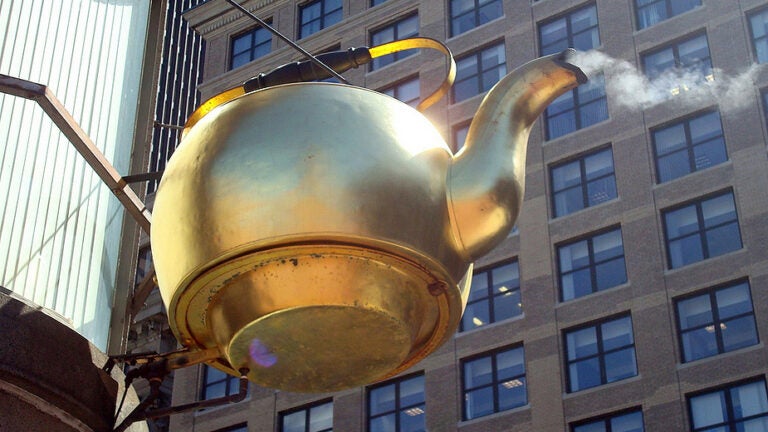 The Steaming Kettle, a Government Center landmark that was manufactured in 1873, was taken down Monday morning for repairs, according to a report from WHDH.
It's believed that the kettle was bumped and dented, possibly by a truck. WHDH reports that it may take five to six weeks for the kettle to be repaired.
Boston's giant Steaming Kettle down & out. Dented and down for repair #7News pic.twitter.com/LsiQMCE17d

— Dan Hausle (@dhausleon7) May 9, 2016
The kettle was an old sign for the Oriental Tea Company, and hung in a variety of locations before arriving at the Court Street Starbucks. It became a tourist attraction after an 1875 contest to guess the kettle's capacity—227 gallons, two quarts, one pint, and three gills, which is etched on the side of the landmark. The kettle is also iconic for spilling out steam, accurately resembling a giant pot of hot tea.
A call to the Court Street Starbucks for more information was referred to the company's marketing department. That request for comment has not yet been returned. The Boston Police Department said that since no report has been filed, they have no information.