Lifestyle
This MIT student did a bittersweet goodbye photoshoot with his thesis
Morris Vanegas split a milkshake with his thesis before he turned it in.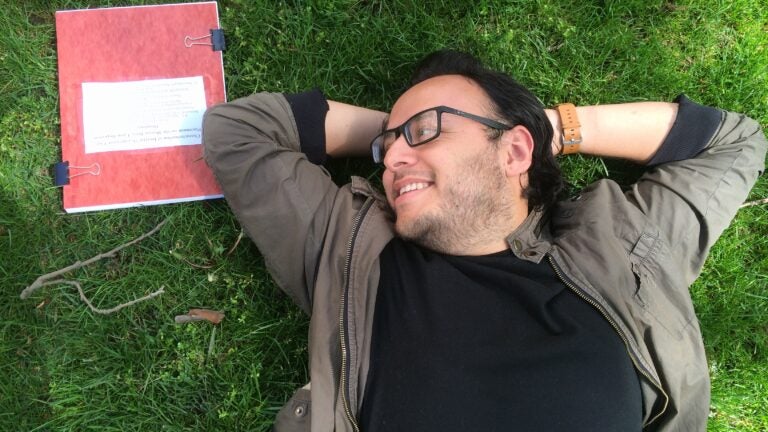 When Morris Vanegas found out he needed to make a few more edits on his Massachusetts Institute of Technology thesis the morning it was due, he casually texted his mom about his added work.
"She was really nervous about me turning it in on time," Vanegas, 26, said. "She thought [the edits] meant more experiments and more work, so throughout the day I was taking gag photos and sending them to her."
Vanegas showed some friends the photos and then eventually put those pictures on Imgur, in a gallery titled "A love letter to my thesis." Vanegas handed his thesis and uploaded the photos on the same day, May 19, and since then, the album has accumulated more than 44,000 views.
The thesis was for his dual masters' degrees in Aerospace Engineering and Mechanical Engineering and focused on what Vanegas described as the "characterization of sensory wearables." It looked at how data from wearable technology could possible be skewed depending on where the sensors are placed against the skin.
Handing in his thesis was a "sigh of relief," Vanegas said. In one shot from his photoshoot, Vanegas clinks a beer with the bottle next to his propped-up thesis—"Your sense of humor is just like mine. It's like we were always on the same page," the caption reads—and in another, the two sit on some MIT steps sharing a milkshake.
"I have never been good at goodbyes. So I'll make it quick," Vanegas captions one of the last photos in the album, before he stands overlooking the Charles RIver with his hand linking with his thesis's binder clip. "I hope to see your face again soon, in the references section of future works on space suits."
Vanegas will graduate June 3 but his relationship with academia isn't over. He'll be back in the Boston area soon to work on his PhD at Northeastern. In the meantime, he'll head home to Los Angeles, where he may have to keep explaining his newfound photoshoot fame to his mom.
"She's so surprised, she doesn't understand why people are fascinated with it," Vanegas said. "She just keeps saying 'Why is this funny? I don't understand.'"