Lifestyle
How you can swim the Charles River this summer
The Swim the Charles event is all about that no-longer-dirty water.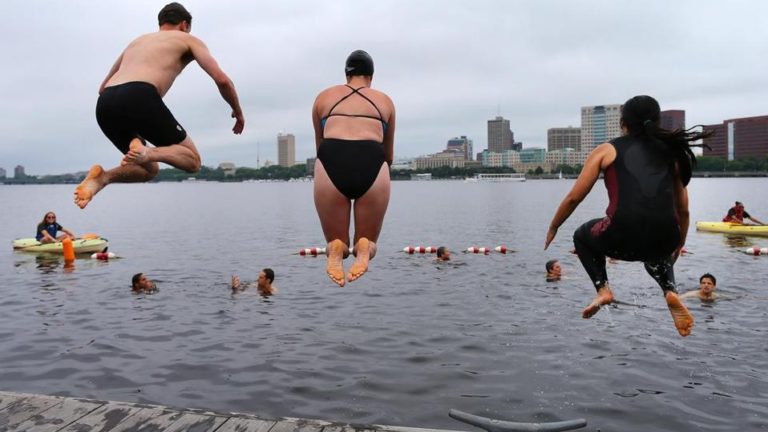 Want fun things to do in Boston, delivered to your inbox every Thursday? Sign up for the BosTen newsletter, our weekly roundup of 10 not-lame events in the city.
Summer means swimming, and the Charles River is getting in on the action.
"Love that dirty water? Too bad! It's clean! Let's go swimming!" the Charles River Conservancy wrote on Facebook Thursday.
Yup, that once dirty water is now swimmable, but you and your swim group will have to register ahead of time. The CitySplash Swim the Charles event is Tuesday, July 12 from 2 to 6 p.m. This marks the fourth year in a row that the Conservancy is letting Bostonians jump—but no flips off the dock, please—into the river.
The Charles River Conservancy launched the Swimmable Charles initiative in 2004 to bring back public swimming to the lower Charles River—swimming was first prohibited in the 1950s because the polluted waters posed a health risk.
It's safe to swim in now thanks to a number of initiatives, like the 1972 amendments to the Clean Water Act, the Massachusetts Water Resource Authority's Boston Harbor Project which launched in 1986, and the U.S. Environmental Protection Agency's 1995 Charles River Initiative, according to the Conservancy.
All of these efforts raised the water quality of the Charles from a "D" grade in 1995 to an "A-" in 2013. The Conservancy says that the water is considered swimmable many days of the year, but they still face some environmental challenges before it can be swimmable all year-round, as well as access constraints. To raise awareness and to continue to improve the river's water health, the Conservancy started hosting these public community swim events in the Charles in 2013.
Last year, 200 brave Bostonians dove into that no-longer-dirty water, and that was just on the first of two public swimming events that summer.
Scenes from 2015's event:
[bdc-gallery id="114139″]