Lifestyle
Everything you need to know about the 2016 Boston Pops Fireworks Spectacular
To make it the least overwhelming event possible.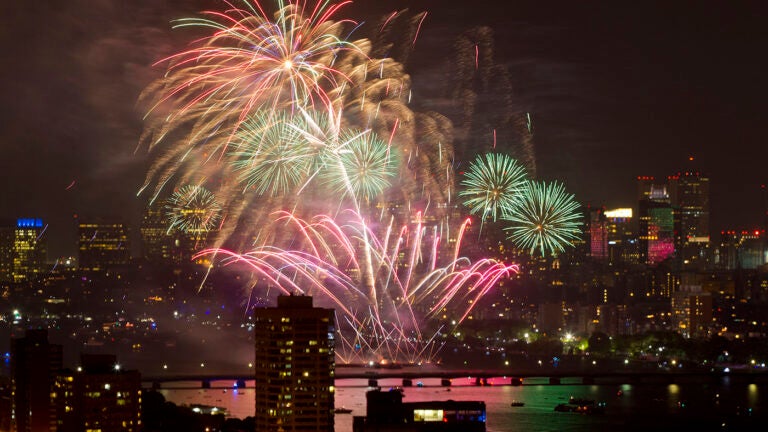 Want fun things to do in Boston, delivered to your inbox every Thursday? Sign up for the BosTen newsletter, our weekly roundup of 10 not-lame events in the city.
Forty years ago, during America's 1976 bicentennial celebration, the third edition of the Boston Pops Fireworks Spectacular earned a spot in the Guinness Book of World Records for the largest audience in the history of orchestral concerts, with more than 400,000 people in attendance.
The 2016 edition of the annual Fourth of July Boston Pops Fireworks Spectacular promises to be a great show, as well. Beyond the always amazing performances by the Boston Symphony Orchestra under the direction of conductor Keith Lockhart, pop stars Nick Jonas and Demi Lovato and country music group Little Big Town will be performing. But the most compelling reason to check out this year's show is that the Boston Pops Fireworks Spectacular as we know it might be coming to an end.
The Boston Globe reports that longtime steward David Mugar is set to retire this year, and after 43 years, more than 40,000 hours, and more than $20 million of his own money committed to the holiday concert series, he has been unable to find a corporate sponsor willing to cover the roughly $2 million in annual expenses for the event.
"As for the future, I really don't know," Mugar told the Globe Monday at the Hatch Shell as workers prepared for the July Fourth event. "I can't believe that things won't work out, but I can't really answer you."
While it is hard to believe that such a beloved Boston tradition could come to a sudden end, finding a way to see this year's light display takes on a slightly greater degree of importance. With that in mind, here is everything you need to know about watching this year's Fourth of July fireworks spectacular.
When is it?
The fireworks display doesn't get going until 10:30 p.m. on Monday, but the concert begins at 8:30 p.m., and if you want a good view, you will want to head down even earlier. If you don't want to brave the crowds on the Fourth, Lockhart and the Pops will be doing a rehearsal on July 3 at 8:30 p.m.—that usually draws a large but more manageable crowd. You can view the full schedule of events here.
When should I get there?
That depends on where you want to watch from. Entrance to The Oval (the grassy area surrounding the Hatch Shell) begins at 9 a.m., but the line to get in begins forming hours earlier. Once you're in, you are given a wristband that lets you move in and out, but it will begin to get packed in the late afternoon and will be completely impassable by dinnertime. That said, this year might be even crazier: The Fourth of July doesn't usually feature free concerts from pop stars with the stature of Lovato, Jonas, and Little Big Town, so unless you want to get beaten out for a spot by crazed hordes of Lovatics, the earlier, the better.
For those seeking a spot along the banks of the Charles River, there will be speakers spread along both the Boston and Cambridge shores, so you'll be able to hear everything perfectly. If you're hoping to snag a riverside view, staking out a spot around 6 p.m. should get the job done, Spots will be sparse by 7:30 p.m.
How should I get there?
Festival organizers highly recommend utilizing public transportation, which will be free after 9:30 p.m. on the Fourth. Storrow Drive begins closing lanes on July 3, and there are multiple other road closures prior to the celebration. Those who plan to go to the Hatch Shell via the T should get off at Charles MGH on the Red Line or Arlington on the Green Line.
Where should I watch from?
If spending the entire day at the Hatch Shell doesn't appeal to you, the river-adjacent lawns are too packed, and you don't have a boat to launch on the river or friends who have roof access at a nearby office or apartment, there are plenty of other spots in the Boston area from where it's worth watching the show.
BU Bridge
An important thing to note: The traditionally popular viewing spots on the Longfellow Bridge and Mass Ave. Bridge are closed to the public. That means the only Charles River bridge you can get on this year is the BU Bridge.
Prospect Hill, Somerville
Somerville's fireworks will be held on June 30, so there's no need to worry about any clouding of your view from this scenic hilltop.
Robbins Farm Park, Arlington
The town of Arlington capitalizes on having one of the best suburban views of the skyline by setting up speakers and television screens on this expansive hillside park.
Wright's Tower, Medford
One of the peaks in the Middlesex Fells Reservation, Wright's Tower is known for its perfect view of the Boston skyline. Don't climb the actual tower, though: Officials keep it closed for safety reasons.
Bunker Hill, Charlestown
With its pristine green lawns and a piece of Revolutionary War history towering above you, Bunker Hill is a great place to sit and watch.
What should I take?
If you're planning on making a full day out of it, definitely take either a blanket or chairs to sit on, a deck of cards or a football to entertain yourself, and some water to stay hydrated. Rain or shine, you should think hard about your footwear—road closures will mean a good deal of walking to get to your desired location, and flip-flops may not cut it.
What shouldn't I take?
Security has been extremely tight ever since the Boston Marathon bombings, and many items you wouldn't normally think twice about are not allowed at the Hatch Shell. If you want to bring a cooler, for example, it cannot be on wheels. No backpacks or large bags are allowed, while small purses or bags will undergo an extensive search. If you have more to bring than fits in a small purse, it must be carried in a clear plastic bag. All liquids must be carried in sealed plastic containers not exceeding two liters in size, and no alcoholic beverages are allowed. You can check out the full list of banned items here.
The Boston Pops Fireworks Spectacular is only one of more than 20 fireworks displays in Massachusetts on July 4, so if the prospective crowds seem overwhelming, there should be another great option in a town near you. But if you want to watch a truly awe-inspiring fireworks display broadcast on television nationwide, this guide should help get the job done.