Lifestyle
10 events in Boston this month that will make you smarter
School's back in session for more than just college students.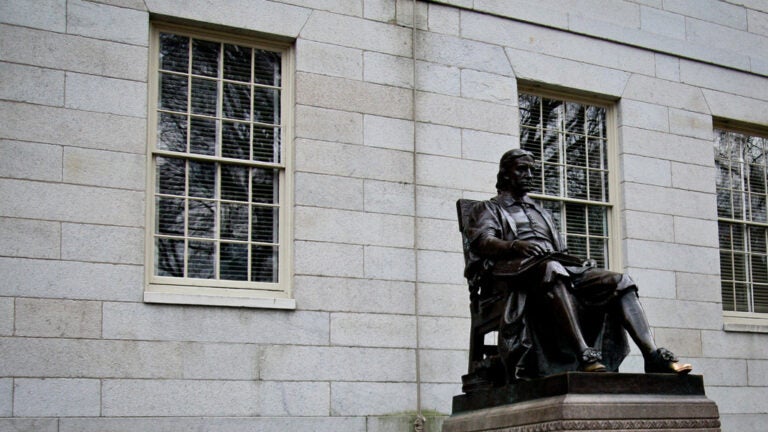 Want fun things to do in Boston, delivered to your inbox every Thursday? Sign up for the BosTen newsletter, our weekly roundup of 10 not-lame events in the city.

Boston is bursting at the seams with intellect. With more than 40 colleges and universities in the area—including two of the world's most prestigious—Greater Boston is a haven for some of the brightest historians, programmers, doctors, writers, biologists, and engineers in the world.

With so many brilliant minds forming and firming in its vicinity, Bostonians—regardless of age, income, and education level—have an overwhelming (and unique) opportunity to learn via lectures, workshops, and events. It's one of the best things about our city.

The goal of this list is to trim down the seemingly endless cognitive possibilities Boston offers into a manageable itinerary for the curious mind. Here are 10 events in the month of September that will make you brighter.
Ever feel overwhelmed? Having trouble focusing on big-picture life choices? Join health/wellness coach Margaret Moore and Harvard Medical School professor Edward Phillips as they identify nine distinct biological parts of your personality (what they refer to as "your Inner Family") and explain how they shape your core needs and values. (Thursday, September 8, 7 p.m.; Harvard Square Coop; free; all ages)
The modern economy has seen a marked increase in professionals whose income is dependent on or supplemented by freelance work. But for many, putting a dollar value on your time and successfully negotiating that rate on a regular basis can be daunting. Join CPA Bryan Coleman, who owns his own accounting firm and teaches college courses on the side, as he helps you identify a price point for your skills, regardless of what they are. (Thursday, September 8, 6:30-8 p.m.; Society of Grownups; $30; all ages)
After a summer hiatus, the Harvard-Smithsonian Center for Astrophysics is bringing back their Observatory Nights on the third Thursday of every month. The topic of this month's discussion is interstellar dust — it's what makes photos of distant nebulas so beautiful, but it's also what prevents scientists from seeing what's behind all the cosmic mess. After an hour-long presentation, attendees will have a chance to look through the observatory's telescope, weather permitting. (Thursday, September 15, 7:30-8:30 p.m.; Harvard-Smithsonian Center for Astrophysics;  free; all ages)
Mara Wilson is best known for her work as a child actress, starring in Matilda, Miracle on 34th Street, and Mrs. Doubtfire. But in her later years, she has moved mostly from performing to writing, publishing short stories and a screenplay. She'll be doing a reading of her new book, Where Am I Now?: True Stories of Girlhood and Accidental Fame, at the Brattle Theatre. (Thursday, September 15, 6-8 p.m.; Brattle Theatre; $5; all ages)
Whether you love or hate New England's unpredictable weather, no one can deny that it keeps things interesting. That's why the Museum of Science is doing a full weekend of weather-related presentations, featuring meteorologists from the Channel 5 Storm Team, atmospheric and oceanic researchers, and local storm chasers. (Saturday-Sunday, September 17-18, 11 a.m. to 4 p.m.; Museum of Science, Boston; $25 for adults, $20 for children, $21 for seniors; all ages)
As Massachusetts continues to debate the efficacy of charter schools in the region, the Pioneer Institute will host a panel of experts to discuss the issue. They include Cheryl Brown Henderson, daughter of the late Rev. Oliver Brown, the main plaintiff in the landmark Supreme Court case Brown v. Board of Education, and the discussion will be moderated by WBUR's Meghna Chakrabarti. (Monday, September 19, 8-10 a.m.; Omni Parker House Hotel; free; all ages)
To most, the enduring legacy of the Puritans is a reputation for strict moral and religious mores and a repressed family life. But historian Abby Chandler says that if you delve a bit deeper, you'll find that the average Puritan family, while conservative by modern standards, often featured fairly progressive gender roles within the home. Along with moderator Nathaniel Sheidley, Chandler will discuss the ins and outs of the earliest European settlers of Massachusetts. (Monday, September 26, 7-8:30 p.m.; Old State House Museum; free; all ages)
From September 25 to October 1, HUBWeek, a creative festival that celebrates innovation at the intersection of art, science, and technology, will hold dozens of lectures, demonstrations, and activities designed to stimulate the mind. (Note: Boston Globe Media is a founding partner and sponsor of HUBWeek.) One of the festival's highlights is this panel, hosted by STAT senior enterprise reporter David Armstrong, on the science behind opioid addiction and the possible treatments — both current and future — that are being discussed by medical professionals. (Tuesday, September 27, 8-9:15 a.m.; Ragon Institute; free; all ages).
Climate change has decimated the worldwide coral reef population. Rising ocean temperatures are killing an organism that is a crucial part of the ecosystem for marine and human life alike. But there is evidence that human intervention can change the coral's fate. Join visiting oceanographer Jeremy Jackson for a breakdown on why coral reefs matter, and how we can help save them. (Wednesday, September 28, 7-9 p.m.; Simons IMAX Theater, New England Aquarium; free; all ages)
Another highlight of HUBWeek is this panel on how the performing arts can profoundly impact the wellbeing of patients, and the overall intersection of music and medicine. All four panelists are involved in both disciplines, including Mass General Hospital pediatrician and founding director of the Longwood Symphony Orchestra Dr. Lisa Wong; and Dr. Rudy Tanzi, whose groundbreaking Alzheimer's research and time spent playing keyboard for Aerosmith earned him the nickname "the rock star of science." (Thursday, September 29, 4-6:30 p.m.; Russell Museum of Medical History; free; all ages).
For many more HUBWeek event options, click here.