Lifestyle
10 events that will make you smarter this month
Because more than just college students can learn something new.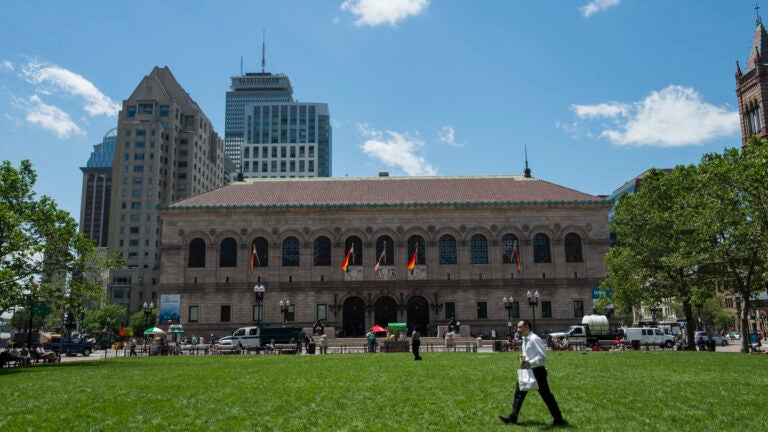 If you're hoping to boost your intellect or expand your world view, look no further than Boston. The Greater Boston area is home to more than 40 colleges and universities – including prestigious institutions like Harvard and MIT – and boasts some of the nation's best and brightest doctors, writers, and scientists.
Knowledge is all around us–and we should take advantage of it. However, it can be daunting to scroll through a seemingly endless list events to find the city's best intellectual offerings. The goal of this list is to provide a more manageable calendar of lectures, workshops, and other programs designed to make you smarter.
Here are 10 events in July that will satiate the curious mind.
The Gardner art heist is perhaps the greatest unsolved mystery in the world: More than 25 years later, none of the 13 stolen works have been recovered. Pulitzer-prize winning reporter Stephen Kurkjian, who was The Boston Globe's lead reporter on the heist, will tell the dramatic story of the incredible theft and share details on the investigation. Pre-registration is required for this event. (Thursday, July 6 from 6 p.m. to 7 p.m.; Massachusetts Historical Society; free; all ages)
Bestselling author Ben Mezrich is heading to Brookline Booksmith for a reading of his latest book, Woolly: The True Story of the Quest to Revive One of History's Most Iconic Extinct Creatures. In Woolly, Mezrich tells the Jurassic Park-esque true story of the genetic resurrection of the extinct woolly mammoth. (Friday, July 7 at 7 p.m.; Brookline Booksmith; free; all ages)
Join meteorologist Dave Epstein for a discussion of how climate change is affecting weather across the region. Epstein will also share some predictive models that forecast future weather patterns in New England. (Tuesday, July 11 from 6 p.m. to 7 p.m.; Boston Public Library; free; all ages)
Since the first DNA from ancient humans was published in 2010, scientists have been able to gain a better understanding of the history of these people and how they are related to one another. Harvard genetics professor David Reich will discuss his lab's work with ancient DNA and how it may lead to more discoveries about the past of humankind. Pre-registration is required for this event. (Wednesday, July 12 from 6 p.m. to 7 p.m.; Broad Institute; free; all ages)
Educate your taste buds at this two-part event that explores the relationship between food, science, and culture. During the first portion of the evening, attendees will enjoy food from various vendors while learning about baking science, the evolution of coffee, and the city of Saloniki. Later, event-goers will enjoy late-night museum admission, as well as beer and cider tastings. You can register for just a portion of the evening, or stay for the whole event. (Tuesday, July 18 from 7 p.m. to 11 p.m.; MIT Museum; tickets range from $20-$45; ages 21+)
How is climate visualized? This cross-disciplinary panel discussion will consider how art, science, and public policy affect how Americans view and approach climate change. After the talk, attendees are invited to check out the Leventhal Map Center's exhibition on the history of climate mapping. (Thursday, July 20 from 6 p.m. to 7 p.m.; Boston Public Library; free; all ages)
National Book Prize-winning author James McGrath Morris will discuss his latest book, The Ambulance Drivers: Hemingway, Dos Passos, and a Friendship Made and Lost in War, which follows the two-decade long friendship of American literary greats John Dos Passos and Ernest Hemingway. Forged on the front lines of World War I, the relationship between Dos Passos and Hemingway was influential in the creation of their most famous works. A book signing will follow the discussion. (Thursday, July 20 at 7 p.m.; Harvard Book Store; free; all ages)
Channel your inner sailor by learning how to float a boat, build a ship, and tie a knot at this event honoring the USS Constitution's return to the water after two years of restoration. (Sunday, July 23 at 9 a.m. to Monday, July 24 at 1 a.m.; USS Constitution Museum; free; all ages)
Join WBUR contributor Joyce Kulhawik for a screening and discussion of The Manchurian Candidate, the 1962 Cold War classic that delves into the world of corruption and politics. Tickets include complimentary popcorn. (Sunday, July 23 at 4 p.m.; TCAN Center for the Arts; $20; all ages)
Fan of the Beatles, Jimi Hendrix, or the Grateful Dead? Steve Waksman, music professor at Smith College, will examine how live concerts, music festivals, and recording studios influenced some of the most iconic rock artists of the 1960s. (Tuesday, July 25 from 10:30 a.m. to 12 p.m.; Museum of Fine Arts; $28 for members and $35 for non-members; all ages)