Lifestyle
You can get lost in a corn maze-sized Tom Brady at this Mass. farm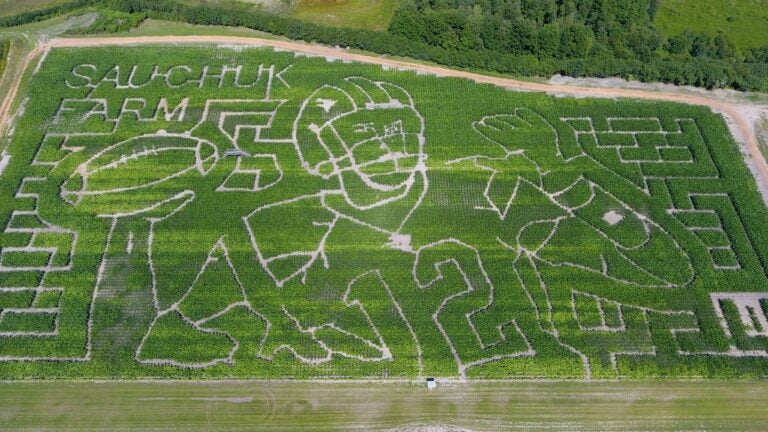 If you're a Patriots fan and this football season hasn't quite lived up to your expectations so far, you can go hide in—er, have an adventure in—a Patriots-themed corn maze. A maze in honor of quarterback Tom Brady opened at Sauchuk's Corn Maze and Pumpkin Patch in Plympton last month.
Sauchuk Farm owner Scott Sauchuk previously told Boston.com that the inspiration for choosing Brady was based on the team's historic Super Bowl victory over the Atlanta Falcons earlier this year.
"He's the MVP of the Super Bowl with the outstanding comeback that they made and looking forward to doing it again next year," Sauchuk said. "He sort of exemplifies New England sports."
The farm revealed the maze's design on its Facebook page in early July. Around that same time, the company responsible for creating the design, Utah-based The MAiZE, fashioned Sauchuk Farm's corn crop into the maze's shape. Sauchuk said it was then about a 90-day process for the corn to grow to the correct height. The maze reached full height in early September.
This year marks Sauchuk Farm's 10th maze. Last year, the farm celebrated the Peanuts gang and the 50th anniversary of It's the Great Pumpkin, Charlie Brown.
"We try to find something that is relevant," Sauchuk previously said. "We wanted to do something with sports and wanted to do something on it for the past few years. With the Super Bowl, it was a good opportunity."
The Tom Brady maze will run for seven weekends at Sauchuk's Corn Maze and Pumpkin Patch, through Oct. 29. The farm also offers hayrides, rat rollers, and tug of war. Tickets, which include unlimited one-day access to the maze and most activities, can be purchased online or onsite.