Lifestyle
Boston Winter is returning to City Hall Plaza with more shopping and a silent disco
The event, officially called Boston Winter presented by Berkshire Bank, drew more than 300,000 people last year.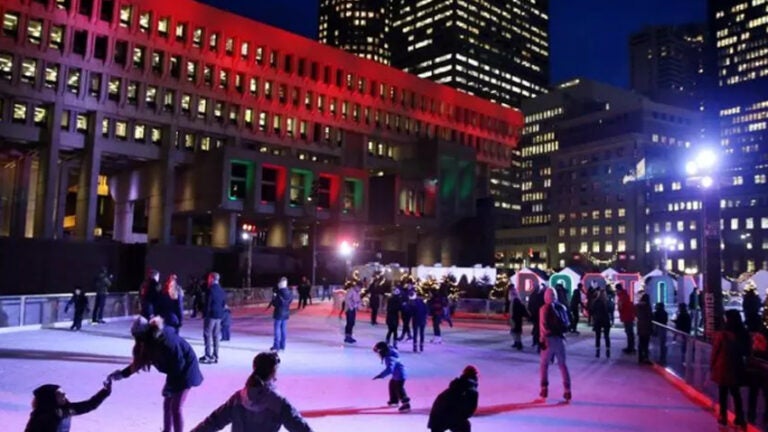 On Friday, Boston Winter will return to City Hall Plaza with a bigger market, a special area for kids, and a silent disco. The holiday market/outdoor skating rink drew more than 300,000 people during its debut last year, according to Mayor Marty Walsh's office.
This year's holiday market will boast 80 boutique-style chalets filled with local, national, and international vendors, up from 40 last year, said Lena Romanova, Millennial Entertainment Group founder and co-producer of Boston Winter. Local vendors will include Joyo, which makes handmade gifts from wood in Scituate; Lovepop, a three-dimensional card company launched out of the Harvard Innovation Lab in 2014; and Patricia Wellencamp Jewelry, which makes handcrafted jewelry from metal in Somerville, according to the Boston Winter Facebook page. Organizers are also adding a charity valet this year, which will promote various philanthropic causes throughout the season, said Lena Romanova, founder of Millennial Entertainment Group and co-producer of the event.
The market's main food area, called Bavarian Village, will return with even more German and European foods, from potato pancakes with sour cream to bratwurst to potato soup. Wine and mulled wine will once again be served in the Vinopolis tent, and beer has been added to the tent this year, Romanova said. It will cost $20 to taste four wines and $25 to taste six, said Romanova. Organizers are still finalizing the cost of the beer tasting, she said.
The ice skating rink is getting reconfigured, but rest assured that the marquee "Boston" sign — the one you saw all over Instagram last year — is coming back. The rink will offer learn-to-skate programs, and visitors can rent skates or bring their own.
Also coming back: The Santa House, where Santa will take pictures with kids and, this year, pets too, Romanova said. A digital email with pictures will cost $15, and three prints will cost $24.95.
What's new for 2017? For one thing, a 600-square-foot tent called the Enchanted Castle Experience that will offer kid-friendly food, a chocolate-tasting area where kids can dip treats like marshmallows, and an area where children can write letters to Santa, Romanova said. Kids will also have a chance to have lunch with Santa on weekends for $25, which parents can book online.
"They meet Santa, Santa reads them a book, and they get a meal to eat," Romanova said.
At night, the Enchanted Castle Experience will turn into an adult hangout, where people can mingle, eat food, sip wine, beer, and wine cocktails, and write letters to the president rather than Santa. Santa's mailbox will be transformed into a White House mailbox, and the letters will be sent to Washington, D.C. at the end of the season, Romanova said.
Local singers and dancers will perform daily on the event's gazebo stage, she said. On Fridays, the plaza will transform into a silent disco, courtesy of Dreamland Silent Disco. Participants can borrow LED-lit wireless headsets — in exchange for $20 or an ID as collateral — and choose between three types of music: electronic and hip-hop, mash-ups, and hits from the '60s through today.
The market is free to enter, and its shops and attractions will be open through Dec. 31. The skating rink will be available through Feb. 28.