Lifestyle
Relaxed Hillary Clinton gets a warm reception at Opera House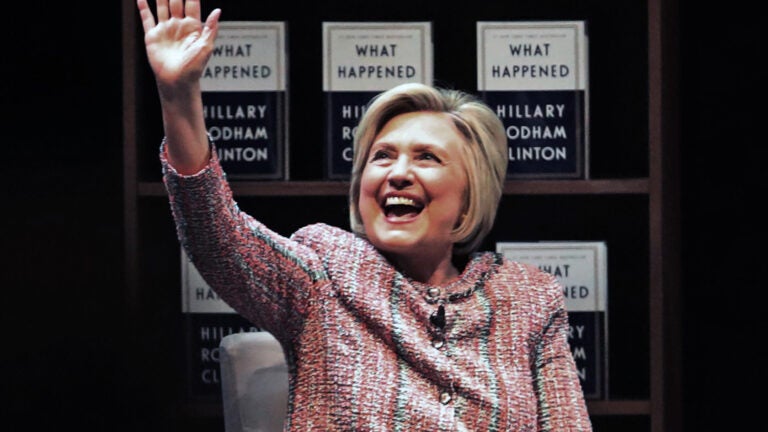 Judging from the reaction she received Tuesday at the Opera House, it would be reasonable to conclude that Hillary Clinton had won the 2016 presidential election.
In town to promote "What Happened,'' her personal autopsy of the election, Clinton was greeted by the sold-out crowd like a conquering hero, which she might have been if voters last fall had been even half as enthusiastic about her as a candidate.
But they weren't, so here we are.
Clinton's appearance in Boston is part of a 16-city national tour to promote her book, which has sold well despite mixed reviews. (Some have called "What Happened'' self-serving, while others have praised its poignance and honesty.)
The book is Clinton's attempt to explain how a former first lady who'd served as a US senator and the secretary of state wound up losing the election — or at least the Electoral College vote — to Donald Trump, a deeply narcissistic New York businessman who'd never held elective office.
There's no one answer, of course, but everyone from former FBI director James Comey to WikiLeaks founder Julian Assange, Russian President Vladimir Putin, and The New York Times come in for some blame.
Tuesday, Clinton was in good spirits and seemed comfortable as she talked about President Trump and the lessons learned in the aftermath of "one of the wildest elections in American history.''
"I used to feel like I had to be careful in public, to keep my guard up,'' she said. "Well, those days are over.''
Seated on stage with Tim McCarthy, a lecturer in history at Harvard who was the evening's friendly interrogator, Clinton said she recovered from the election by reading a lot of mystery novels — "they get the bad guy at the end'' — watching HGTV, playing with her dogs, and drinking her "fair share of chardonnay.''
There were plenty of applause lines in her 20-minute introductory speech — she received three standing ovations — but none more popular with the predominantly female audience than this: "The only way to get sexism out of politics is to get more women into politics.''
Although the impulse to examine the reasons for her defeat is understandable, some have said they wish Clinton would resist. In a recent interview in Esquire, Arizona Senator John McCain, who knows a thing or two about failing badly as a presidential candidate, questioned why Clinton continues to talk about 2016.
"What's the (expletive) point? Keep the fight up? History will judge that campaign, and it's always a period of time before they do,'' McCain said. "You've got to move on. This is Hillary's problem right now: She doesn't have anything to do.''
But she does. Clinton made it clear Tuesday that she's paying close attention to what's happening in Washington.
She called the GOP tax bill an "abomination'' and said voter suppression laws are a "blast from the Jim Crow past'' intended to affect the Democratic constituency — immigrants, students, and minorities.
Clinton didn't utter Trump's name often Tuesday, but it was clear who she was talking about, as when she said: "There's no such thing as an alternative fact.''
Lindsey Galvao and her husband, Ricardo, who live in Natick, paid $900 for a pair of VIP tickets. The couple acknowledged that's a lot of money, but in return they got their picture taken with Clinton, a copy of her book, and seats toward the front of the packed theater. (Every one of the Opera House's 2,600 seats was filled.)
"Her loss has forced women to find ways to use their voice, and I'm not sure that would have happened if she'd won,'' Lindsey Galvao said.
"The ability to meet her and to be here, at this moment in time, is important.''
(Galvao said splurging for the VIP package probably means the couple and their two children will not be able to see "Hamilton'' on Broadway.)
As for Clinton, you can expect to be hearing more from her.
"I'm not going anywhere,'' she said, "except right into the middle of the debate about our future.''
At that, the crowd erupted in a frenzy of applause.